Hair Extenions Length Guide
This guide will give you a very good idea on the length, so you can choose the length you would like. Bear in mind, the length and texture of your own hair can dictate to some degree, the longest length I would advise for you. Lengths up to 24" are next day delivery in the majority of cases. Lengths over 24" (up to 30") are special order, and can take 3-4 weeks for delivery.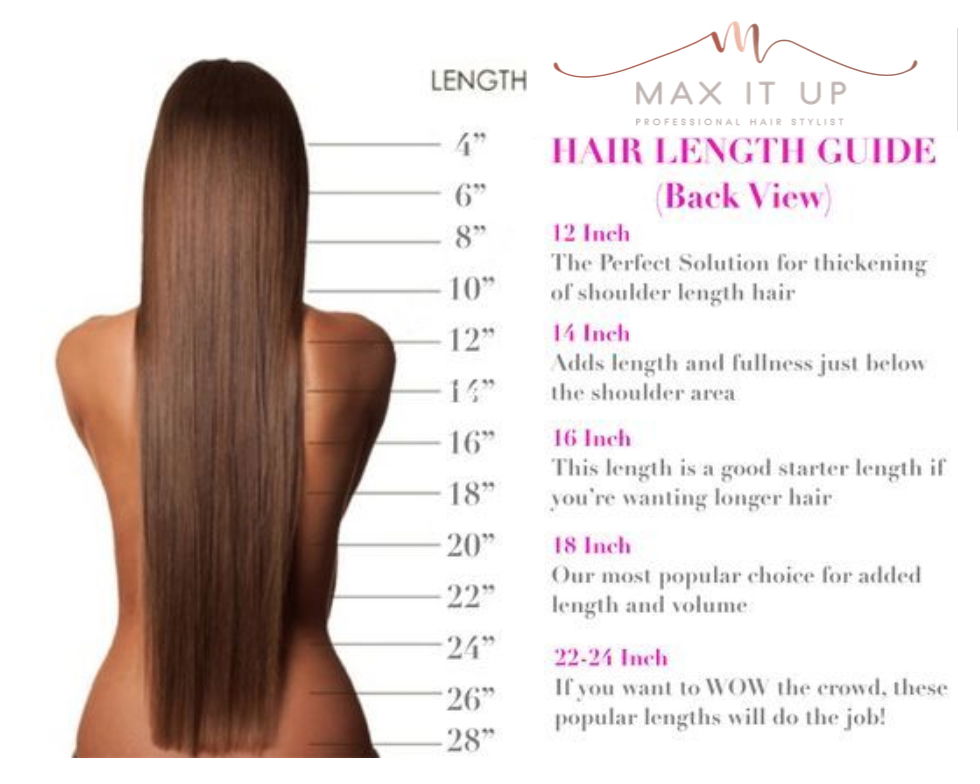 Information re my hair and systems
We all know and understand that a woman's hair is not only her crowning glory, but it is also one of her most powerful assets - Great hair has huge impact on her self confidence and esteem. Having fabulous hair is what it is all about here at Max It Up. With a vast range of different types of hair and installation methods, looking good has never been so easy!
Hair Extensions via the methods used herein, can be used to add length, volume, or both. They create style and add depth and even colour, ALL without damaging the natural hair. Adding or changing your hair, not only gives a WOW transformation to your hair, but it also transforms you, giving a huge confidence boost and feel good factor.
I have worked very hard sourcing only the very best hair from suppliers of 100% Remy Human Hair to offer a choice of hair to suit all budgets and more importantly to deliver what my clients want. With a range of budgets catered for, with only the best hand-chosen hair for that range, everyone can afford the A List look.
Each client is given FREE dedicated one on one consultation to discuss the individual requirements so that your look can be achieved - At this consultation, I will go over all aspects of what you wish, to what is achievable within your budget, and with the length and thickness of your natural hair. Your hair and scalp will be inspected closely, for any contraindications, and to ensure you are okay to go ahead with the application of hair extensions, and which system is best suited to you.
At the consultation, I may place a discreet link in your hair if you've chosen a link/ring system (it will not affect your hair or style whatsoever, and it will NOT be visible), close to your scalp, to ensure you are not allergic to metals (this has NEVER happened yet, but I like to be sure) - This is just how I work, and it will save clients a lot of expense, time, and disappointment if they find they may be allergic to metals in the links (VERY unusual - I've not come across this to date, but I do this as a precaution).
A colour match will be done, to ensure you receive personal and perfect matching from a huge range of over 180 shades/colours, and to ensure you have an absolutely perfect colour match.
Your new hair, regardless of how long, thick, and glamorous it becomes, will always look so very natural :)
I can match to your natural colour, add highlights or lowlights, create Ombre, Balayage, and Dip-Dye too (and so much more!).
I am fully trained and qualified in eight different systems, but have chosen to specialise in these three because they are the most hair friendly, as they do not use Keratin (glue):
LA Weave
Micro Rings
Nano Rings
- The most up to date methods, and more importantly, the KINDEST, NON DAMAGING methods for applying extensions to your own hair.
I am also trained and qualified to -
Cut
Trim / Blend
Shape
Style
I can achieve the following with aid of hair extensions -
Use Creative Colour Placement
Add Highlights and/or Lowlight
Multidimensional
Streaks
Sunkissed
Ombre
Balayage
Dip Dyes
Slices
And so much more!
I am a total perfectionist, and will only ever use systems that cause zero damage, as long as you follow maintenance, and keep your follow up appointments (see each system for these) and aftercare advice.
Please look through the pages for images of my work, showing before and after photo's, testimonials from just some of my very happy clients, and information about the methods I use.
You will also find included on this site, a price guide, so you can see the correct prices, with no hidden extra's or nasty surprises!
My Systems Explained
LA WEAVE

An LA Weave is THE latest craze in the hair extension world - It is a technique used to make sewn tracks less visible than your ordinary braided sew-in weaves. It is secured with rows of micro rings (which are silicone lined to protect your hair - any which are just metal, AVOID at all costs!!) over only two to four rows (depending on the desired result - I double or triple weft the hair so that less rows are needed). This causes no stress or damage. This method allows the hair to breathe, and is much easier to shampoo. This method does not use sharp objects that can injure the scalp. This method requires maintenance every 6-7 weeks, and the hair can last up to 12-18 months, or longer if cared for as per information we will provide for you.
Benefits of the Celebrity Weave -
Short Application Time (could be up to 180 minutes, depending on your hair, and what you require, etc.)
30 Minute Removal
No Bonds
No Glue
No Heat
No Plaits
No Cornrows
Hair can be worn in various styles, including ponytails
6-7 Weeks Life before maintenance is needed
100% Re-usable Hair, which is easily and quickly refitted
Application Time: Varies - 1.5 - 2.5 hours
NANO RINGS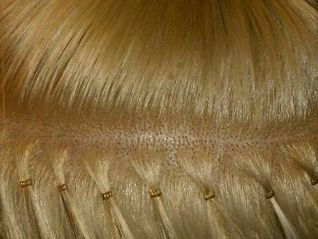 The nano ring is the smallest and most innovative way to apply hair extensions currently on the market. These extensions are very comfortable, and the rings are so tiny, they are almost impossible to detect, even when you are wearing your hair up in a ponytail.
The nano ring is applied in the same fashion as its predecessor, the micro ring - The nano rings are so tiny, you can barely feel them with your fingers.
At the end of each hair extension is a tiny wire. This is different than the tip of an I-tip hair extension, which uses a keratin bonding agent to glue the hair together. Because of the wire, nano-tip extensions are both lighter and allow your hair more freedom of movement. I attach the extension by threading both the tiny wire and the hair it will be attached to through the nano ring, then clamping the two together using pliers to crimp the nano ring.
The hair can last up to 12-18 months or longer, with good care and maintenance (following my maintenance programme and aftercare), and the actual application can last up to three months (after you have become used to them). Because of this, nano rings make for a very low-maintenance hair extension. It is also very easy to fix extensions that have slipped or grown out.
Nano Ring System Pro's -
If the correct aftercare products and guidelines have been used and followed the hair can be removed and refitted using new links
An assortment of colours can be used ensuring a perfect, natural colour match
Comfortable to wear as the links/tubes lie totally flat to the head with full rotation
The hair can be worn in a ponytail and the links/tubes are undetectable
Small and flat with tiny tips, making them very comfortable to wear
Application Time: Approx 3-4 hours
MICRO RINGS

The Micro Ring System is a very effective and discreet ways to add length and volume to your hair without any heat whatsoever.
It is a single strand by strand method, and they are individually attached to your natural hair (iTips or Tiny Tips) via either a Mirco Ring, or a Mini Tube. They can be used for added thickness, length or both. A small link/tube (either Micro on Mini Tube) is used to link your natural hair and extension hair strand. The link/tube is then clamped/crimped (using hair pliers) to hold the tip of the extensions in place close to your roots. Rows are added from the bottom upwards, as high as possible, depending on each client and hair type. This is built up row by row until the desired look is achieved.
Once completed, these links or tubes are very discrete and won't be visible. There are many different types of links/tubes which can be used with both systems, and in varying sizes for different hair types. The links/tubes I use are lined with silicone. This creates a barrier between your hair and the link or tube itself, creating a better grip and more importantly, ensuring the bare metal in not touching your natural hair to stop any potential damage.
Tiny Tips are smaller and shorter than the Stick Tip (iTip), both are are undetectable.
Micro Rings are extremely comfortable, and often the more preferred method due to easy maintenance.
The hair is completely reusable and can be removed and refitted on the same day. With this system, maintenance is simply opening each link or tube, moving it up to near to the root, and re-clamping.
Maintenance is needed approximately every 6-8 weeks (depending on natural hair density and growth rate), which involves opening each link or tube, and gently pushing it back up to near the root area. If any matting appears to be present at any maintenance check up, this cannot by done, and a complete refit will be needed. A refit is rare if aftercare advice and maintenance appointments are kept.
At the 3-4 month stage (after first installation), a complete refit is required to ensure your natural hair is kept in optimal condition. This will include complete removal of the extensions, naturally shed hair brushed away, gentle teasing out of any matting (if present due to poor aftercare - though this is rare if my advice is followed). You can then choose to have the whole system put back in on the same day, or come back a few days later (taking this as an opportunity to have your hair coloured if needed).
This is perfect for clients wanting to get a full head colour refreshed / root retouch or simply wanting a rest period from wear. (Removal cost payable at removal appointment, unless you are having a refit within two weeks, in which case, removal costs are wavered (as long as a refit is booked and paid for at time of removal).
These methods are extremely popular, especially with celebrity figures, due to their low maintenance, and as you will have the option to reuse the hair over and over again, these systems are very cost effective for clients.
Micro Ring System Pro's -
If the correct aftercare products and guidelines have been used and followed the hair can be removed and refitted using new links or tubes
An assortment of colours can be used ensuring a perfect, natural colour match
Comfortable to wear as the links/tubes lie totally flat to the head
The hair can be worn in a ponytail and the links/tubes are undetectable with full rotation
Small and flat with tiny tips, making them very comfortable to wear
Application Time: Approx 3-4 hours
COMPREHENSIVE ADVICE - PRE-FITTING
Preparing for your fitting (getting excited yet??!!)...
Please ensure to thoroughly wash and cleanse your hair with a clarifying shampoo before coming for your fitting, it is advisable to use a clarifying shampoo to completely remove any styling products or residue remaining in your hair. Do not use conditioner.
On the day of your fitting, come with your hair free from conditioner (at the root area) and any styling products, and straightened. This makes it easier to see when applying the links or wefts, and the links/bonds will not slip if you do not apply conditioner or styling products prior to fitting. To have hair extensions, your hair should be a minimum of 5-6 inches in length, just about long enough to put into a ponytail. Ideally, the longer your hair, the easier to integrate. However, shorter lengths can be done (see my gallery for proof!). All I really need is enough hair to be able to hold onto to add hair to, but it will make it much harder to blend, may show (depending on thickness of your own hair), and grow out quicker. If your hair is too short, then going any longer than 14 inches is not advisable.
Email a photograph of your hair to me, or come in for a consultation if you are unsure about anything regarding choice of length.
NB - Before any fitting, I still need to do a consultation to ensure you are okay to go ahead with hair extensions.
RECOMMENDED SHOPPING LIST
Before I go any further, this is something you should jot down, your recommended shopping list to keep your extensions and natural hair in tip-top condition...
Recommended shopping list -
Tangle Teezer® for brushing your roots
Specialist Hair Extension brush for brushing mids to ends - The Tangle Teezer® Range have an amazing brush for this - available from Boots and other good drug stores. Or a Loop Brush is just as good
Extension Shampoo and Conditioner (I can provide for you, or give you details of which ones are acceptable for extension hair)
Argan Oil (OGX Extra Penetrating Oil® is superb). Although, most Argan or Coconut oils are good from reputable stores
Heat Protection Spray
Protein (Keratin) Spray
Olaplex 3 (amazing hair repair product, for home use - invest, it is worth it!)
COMPREHENSIVE AFTERCARE ADVICE
DAILY
Once a day, gently run your fingers through the rows, checking all links are fine. There is no reason they shouldn't be, but it is better to check. If any appear loose or have slipped, it is better for your hair if we repair the link ASAP. Do not fiddle with the links! Just gently check them :)
BRUSHING
When dry:
Hair Extension Brush (the Tangle Teaser® is PERFECT!) - Make sure the only brush you use on or near to the rings or wefts is an extension brush; these are designed specifically to ensure your extensions do not get snagged. When brushing it is important to hold the links/wefts to support them: this prevents excess tugging on the extensions. When brushing the mids and ends, hold your hair in a bunch at the top to stop any tension on the links or bonds.
When wet:
Wide Tooth Comb - Use only a wide tooth comb on the extension hair when wet if absolutely necessary, again holding the hair at the links or wefts (personally, I do not recommend brushing of wet hair, I only brush my extension hair when it is dry).
The extensions are attached to your natural hair and therefore pulling and mistreating them can result in pulling out of your natural hair. For the extension brush, you should only use an extension brush which has cushioned base with soft bristles (The Tangle Teaser® is perfect, I do advise you invest in one!).
Start brushing your hair from the bottom and then move slowly to the top portion. Always make sure to brush in a gentle manner and never brush your hair more than two to three times a day. The Tangle Teaser® brush will glide over your links/wefts gently. When you brush your extensions you should hold the links/wefts and ensure there is no added stress on your hair.
EVERYDAY ACTIVITIES
Those who use sun beds should wrap their hair first in a towel. Sun beds will dry out hair. For those of you who work out regularly, or use a steam room or sauna regularly, you should ensure that their links/wefts are dried/cooled down completely after each session ASAP. Keeping the links or wefts in a damp environment can make them deteriorate and cause the hair to matt near the link/wefts.
It is advised not to have hair extensions in case you are pregnant and for one year post having your baby, as hormonal hair loss during pregnancy and after it can accelerate through hair extensions.
WASHING
Your extension hair should be washed no more than 2-3 times per week - absolute maximum! Personally I wash mine once to twice a week - you will find that the extension hair soaks up oils from your natural hair, meaning it can go much longer between washes. Bonus!
Before washing, de-tangle the hair with your extension brushes.
It is essential that you only use hair extension shampoo and conditioner when washing your hair. These products have been specifically designed to protect the Remy human hair we use in our systems. Using non-extension hair care products can severely cut the lifespan of your extension hair, causing dryness and tangling.
DO NOT USE PRODUCTS WITH - Alcohol, Silicone, or Parabens as ingredients.
Directions for Washing...
Smooth the shampoo down the wet extension hair – never rub as tangling will occur. Make sure to get in amongst the links or wefts. Massage the scalp gently, getting in between each row of links or wefts.
Wash your hair upright (a shower is ideal). Preferably, do not tip your extensions to wash over a sink or bath. Pat hair gently to remove excess water. Again do not rub.
Conditioner should be used only from mid length of the hair to the ends. Avoid applying the conditioner or anything oily to your links/wefts since these may cause them to become slippery over time, and cause them to move.
Pick out the top section of your hair and then apply the conditioner liberally to it.
Leave conditioner on for around five minutes, then rinse with lukewarm water.
Once hair is washed & conditioned, pat it gently rather than rubbing it together.
Always apply a leave in conditioner to the mid lengths and ends, then apply heat protection and Argan Oil prior to drying it.
DRYING
This is advisable, please try and follow it! - When hair is damp, spray or gently rub in Argan Oil/Serum (I love the OGX extra penetrating Argan Oil®, it's fabulous!). Spritz with Heat Protecting Spray also. DO NOT SPRAY NEAR BONDS OR LINKS AS THIS COULD CAUSE SLIPPAGE!
Dry your extension links/wefts at the roots first using a warm setting on your hairdryer. Then without using a brush, blow dry the rest of your hair (it can be styled after it is all dry!)...
Or start by sectioning your hair above the bottom row of links or weft, and blow-dry each row on the way up, section by section, IF you must use a brush, then gently using a round vent brush or extension brush. Point the hairdrier to the floor to smooth the extension hair. Never leave your hair extensions to dry naturally.
To style and smooth, finish with hair straighteners or for a wavy style you can use heated rollers, tongs or any other heat tool. Use a heat defense spray at all times, and finish your dried hair with more Argan Oil. NOTE - DO NOT USE OILS OR STRAIGHTENERS NEAR TO BONDS/LINKS - THEY HAVE GLUE AT THE TIPS TO HOLD THE STRANDS TOGETHER. IF YOU USE STRAIGHTENERS ON THE BONDS, YOU WILL GLUE THEM IN TO YOUR HAIR - BE SUPER, SUPER CAREFUL NEAR TO BONDS AND LINKS!!!
I highly recommend that you use my advised aftercare products which are specially formulated for use with hair extensions. They will restore your natural hair and condition of your hair extensions, this is essential to looking after your extensions. Although the extensions are human hair, they do not receive any nutrients from your scalp like natural hair.
HOW TO CARE FOR YOUR EXTENSIONS WHILST SLEEPING
Always make sure to thoroughly dry your hair before you go to bed. So, if you are planning on washing your hair, make sure you do it several hours before bed time. You also need to tie up your hair gently before you sleep so that the hair does not tangle up - A loose plait to one side is a good way to do this.
STYLING YOUR EXTENSIONS
Straighteners, tongs, crimpers, irons and heated rollers can be used on your extension hair. However, I always advise that you use heat protection spray for protecting your extension hair and natural hair before you use them. And use the lowest possible temperature.
Hairspray, gels and serums can be used WITH CAUTION, and not often as they can dry out the hair and damage it, but the links and wefts should be avoided as it can cause slippage. Try not to overuse heat tools as this can cause your extensions to dry out considerably, again use a protection serum to avoid these issues. AGAIN, DO NOT USE STRAIGHTENERS OR DIRECT HEAT TO BONDS OR LINKS - THIS CAN CAUSE THE TIPS (WHICH ARE FUSION TIPPED) TO MELT IN TO YOUR HAIR - AVOID DIRECT HEAT NEAR TIPS, BONDS, AND LINKS!!!!!
HOLIDAYS & SWIMMING
Swimming with the extensions on is not recommended. However, in case you do, the following precautions are advised to be taken:
Use a covered band and place the long extensions in a pony tail, bun, or braid, clipped on top of your head. DO NOT get extension hair wet. Keep head above water, avoid diving and under water swimming. The chlorine present in pools as well as the salt present in the sea, along with heat, can case matting, and the chemicals in the pool can cause discolouration (though discolouration is unusual and only really applies to lighter colours, it can happen, so just be aware of this).
When extensions get wet while swimming, it is advised that you dry your extensions immediately after rinsing hair out with fresh water and use a leave in conditioner. Avoid brushing wet extension hair and dry them immediately. Make sure that extensions are not tangled after swimming. Again, avoid sleeping with wet extensions and ensure that they have been completely dried before going to bed.
ESSENTIAL IMPORTANT TIPS, AT A GLANCE:
NEVER go to sleep with wet hair, always make sure your extensions, especially the links or wefts are dry before sleeping.
NEVER use direct heat on the bonds or links! They have a keratin tip, and this could melt in to your hair if too much heat is applied - This is especially important with straighteners, tongs, etc.
Take care of your Human Hair Extensions as you would your own natural hair, and remember that like your natural hair, your extensions can be easily damaged with too much heat or abuse.
It is important that you should take good care of your extensions to make the most of them by using the right products.
When removing knots or tangles, start at the ends and work your way up. Never pull on your extensions.
Gently tie your hair up in a scarf or wear in a ponytail or plait while sleeping.
Wash (maximum!!!) 2-3 times a week with a mild shampoo designed for Hair Extensions in tepid water.
After having the extensions fitted, I will guide you on how to look after your extensions in the best way and supply you with extensive Aftercare Advice sheets. Hair extensions are an investment, and should be treated as such. Therefore, it is best to take care of them the right way :)
Avoid all products containing ALCOHOL, SILICONE, & PARABENS
When drying your hair, never rub or scrub with a towel. Simply wrap hair in a towel and then after applying products, blow dry without brushing if possible, on a warm setting.
One of the first things noticeable immediately after the extensions have been installed, for the next one or two days is that the scalp can feel tight and tender, this is normal, and it will go away in a few days. This isn't any type of problem but is caused because there is added weight on the scalp from the extensions.
Hair will grow approximately 1.5 inches within three months. Hair roots start tangling (matting) together often if the links/wefts have not been looked after by not brushing regularly or keeping your maintenance appointments. It is not really healthy for your hair nor your scalp. You must keep your maintenance and refit appointments to avoid this happening.
I also recommend, after having extensions in for 6 months, you have them removed for a short time (1-2 weeks) to give your hair/scalp a break - Weave methods only, as Nano Rings are always replaced in a different position every time (Which gives you time for a good cut and colour!).
The lighter coloured extensions will have been through harsher processes to achieve the light colour. For this reason, their life span will not be as long as hair that is not bleached, i.e. darker colours. These light shades will also require more care and heat application will have to be kept to a minimum for improving lifespan. If you do use heat tools, I highly recommend using a thermal protection serum/spray to help avoid damage from heat.
Do not use shampoos or conditioners (even toners) that contain oils or fruit oils such as wheatgerm or citrus - using shampoos which contain these ingredients could result in discolouration of your extensions.
With hair extensions, it is not necessary for you to wash your hair as frequently as you normally would. You should not have to wash your hair more than 2-3 times per week, preferably less. Any more than this will put a lot of stress on your extensions because of excessive styling.
Further Important Information for Aftercare...
It is also necessary for you to use conditioners and shampoos that are recommended and made for use on hair extensions. The standard high street brands generally contain very high amount of salt or sodium chloride which can dry your hair out. They also contain silicone ingredients which can make the links/wefts slip or loosen. Loose links and wefts can cause your extensions to fall out. Therefore, using the right products is important.
When rinsing hair, rinse for a longer period, as the extra volume created by your extensions may mean it takes a little longer to rinse through.
After your hair has been washed you will have to be extra careful while styling and drying it. Hair is always weak when it is wet. Therefore, you should dry it gently and handle it carefully. Your hair extensions will have a longer life and they will look better if they are taken care of properly, so it is worth investing a little extra time to do it right.
It is quite normal for you to lose some hair when you brush since most people loose up to 150 hairs every day! You will be doing less damage if you have extensions since you will not be using the heat directly on natural hair.
You can style the extensions the same way as your normal hair . You will be able to blow dry, curl, and straighten them the way you want. But avoid straighteners, tongs, etc., near the bonds or links!!!
It is vital that you keep your maintenance appointments after having the extensions fitted to ensure that everything is well. Arrange for this appointment with me at least two weeks in advance. This would be the right time to get any links removed & replaced, and also a blend and trim if necessary.
As hair extensions aren't as strong as your normal hair, some strands MAY loosen or drop out, this is normal for all extension methods.
MAINTENANCE & REFITS
Maintenance & refit appointments are absolutely essential in the aftercare of your hair extensions, however this does not mean that you should leave all of the responsibility up to me, your technician! If you neglect your hair extensions in-between maintenance and refit appointments with the mind set that "my technician will fix this", then you WILL have problems. You should be following all of the aftercare advice provided by me which will include using the correct hair brush, sticking to the appropriate aftercare products, checking your links/wefts daily, and sleeping with your hair secured in place (a loose plait, for instance). I will provide you with a comprehensive list of in-depth instructions for looking after your hair extensions, however those mentioned above are key in looking after your new locks.
Please do not be daunted! All of the information I provide re the importance of maintenance and aftercare may seem overwhelming or daunting, but really it is very simple. I have worn hair extensions, via several different methods for 15 years, and I find it all very easy (If it wasn't, I would not bother!).
It's all about caring for the hair you wear! Treat it as an investment, and it will serve you well for a long time.
Hair extensions will need some amount of regular maintenance.
However, once you get used to it and learn how to wash, style and dry your extensions, they will look good for longer, so it is well worth the effort!
Any problems within the first 7 days (unless any problems are caused by not following my aftercare advice), I will do maintenance work FOC - This is something I have not come across to date though! :)
Please note there are NO refunds due to hygiene reasons and by signing the consultation form I provide, you agree and comply with this information.
Disclaimer - If maintenance appointments are not kept and the above aftercare advice is not followed through by yourself on your hair extensions, then I cannot be held responsible for any damage done to your own hair, or the extension hair.