Hair Accessories Part Two
ALL OTHER TYPES OF HAIR ACCESSORIES
I've covered all different types of Veils at length in my previous Blog, please see it here on this site. So today, Im concentrating on the myriad of other wedding hair accessories for your special day.
I hope this guide on how to choose the perfect hair accessory for your big day helps to inspire you!
There are so many, so grab a cuppa, and settle in for this!
Choosing the right hair accessory for your big day may not be as easy as it seems. Some brides know exactly what they want, whilst many others are unsure, and so I decided to write a blog to try to help and inspire.
There are literally thousands of different types of wedding hair accessories to choose from. I'm explaining each category and sharing some of my favourite products right here.
After you've decided on your dream wedding dress, it's time to think about how you want to style your makeup and hair to suit your gown on the big day. You might already have an idea of the hairstyle you want, but if you don't, email me and I will help, or browse my photos here on this site for some inspiration.
At this stage, for many brides, it now means looking for wedding hair accessories. Whether you think you want a classic updo with a veil, a simple 'do pinned to the side with a sparkly barrette, or a trendy bridal hat, I'm going to explain all the options you have when it comes to wedding hair accessories, and share stylish options for each type of accessory that you can purchase.
Hair Combs
Hair combs happen to be one of the most popular wedding hair accessories, but on a much smaller scale than an actual comb. Instead, these hair accessories use a comb-like feature to grip onto your tresses, whether tucked into an updo, paired with a veil, or loosely holding back part of your hair. Most hair combs are decorated with rhinestones or crystals, making them a favourite for brides who want to achieve a glam look. For a more romantic vibe, choose a hair comb that is decorated with hand-molded flowers, pearl beads, or lace embellishments.
This vintage-inspired hair comb adds just the right amount of sparkle to an undone chignon.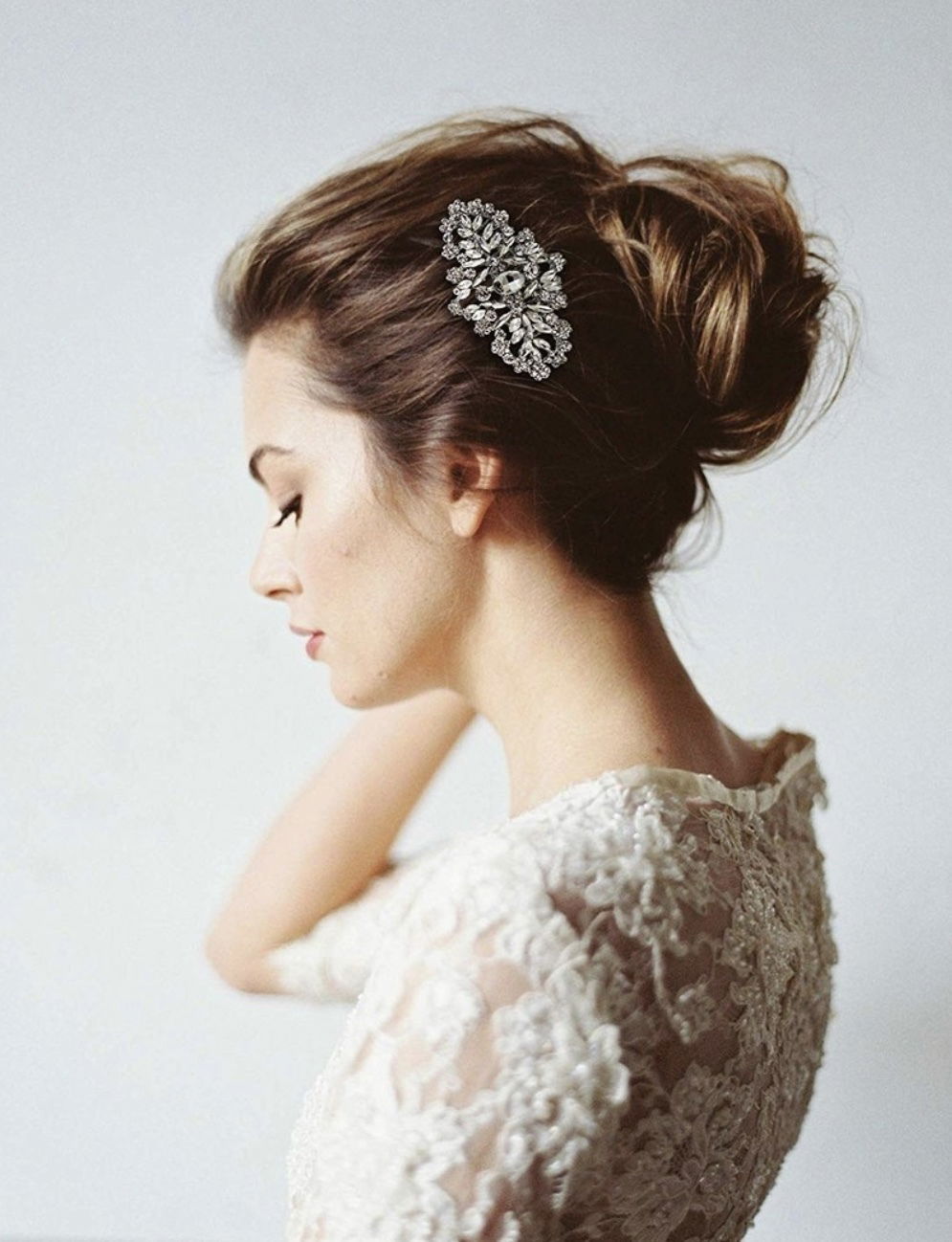 If you're wearing a lace wedding dress, you can't go wrong with a pearl and white floral comb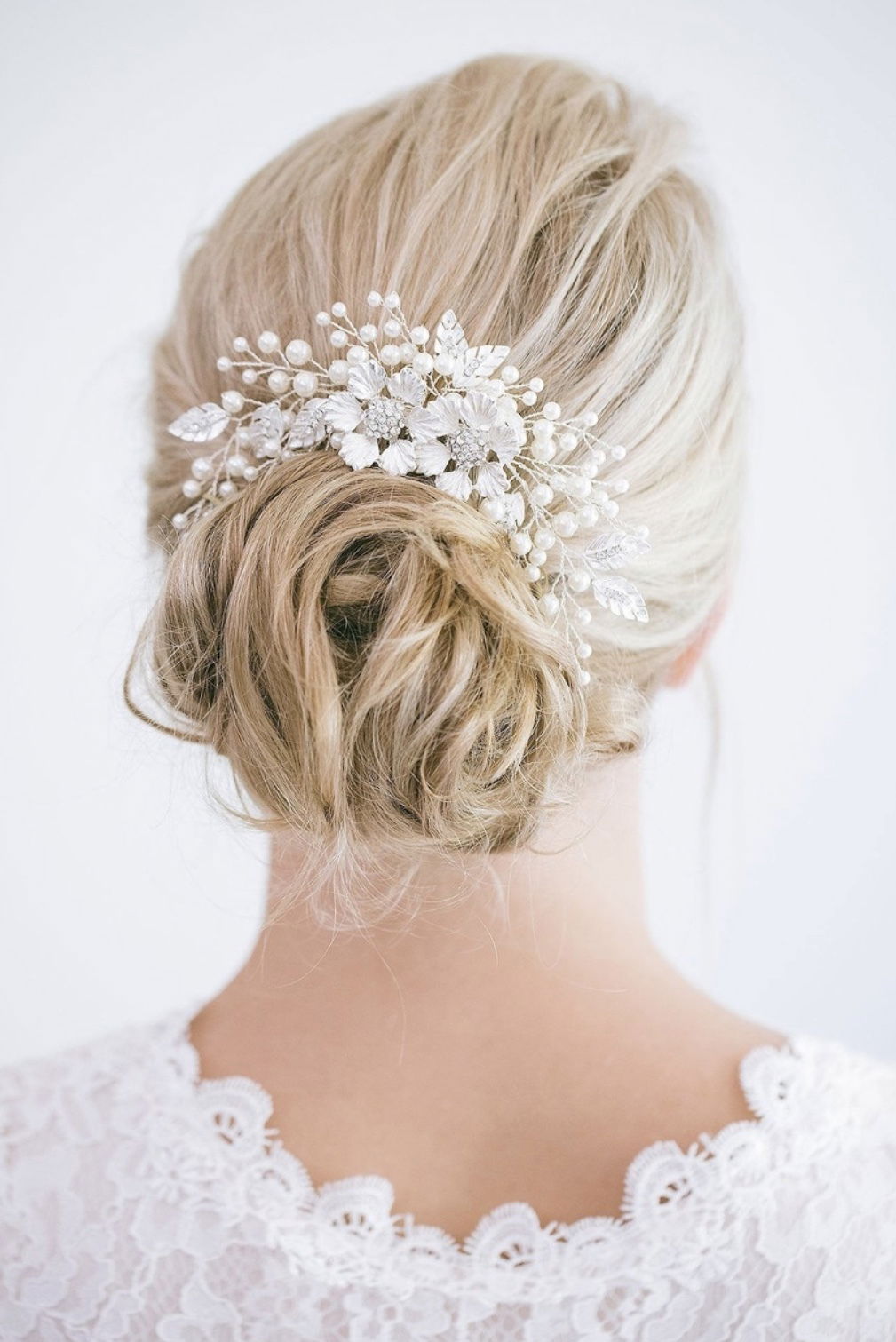 Accent a simple tulle veil with a glitzy silver comb in a greenery-inspired design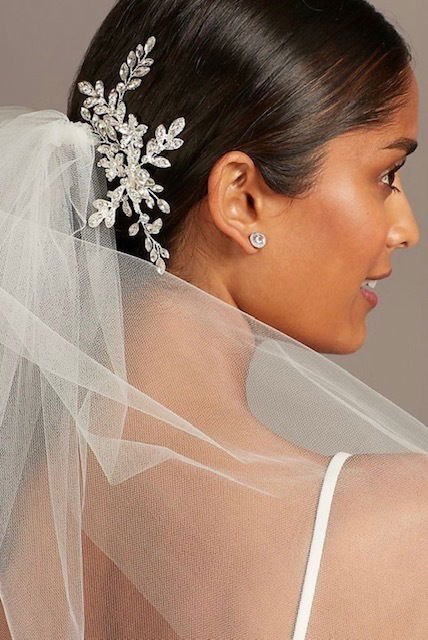 Gold flower hair comb + loose bun = instant Grecian goddess vibes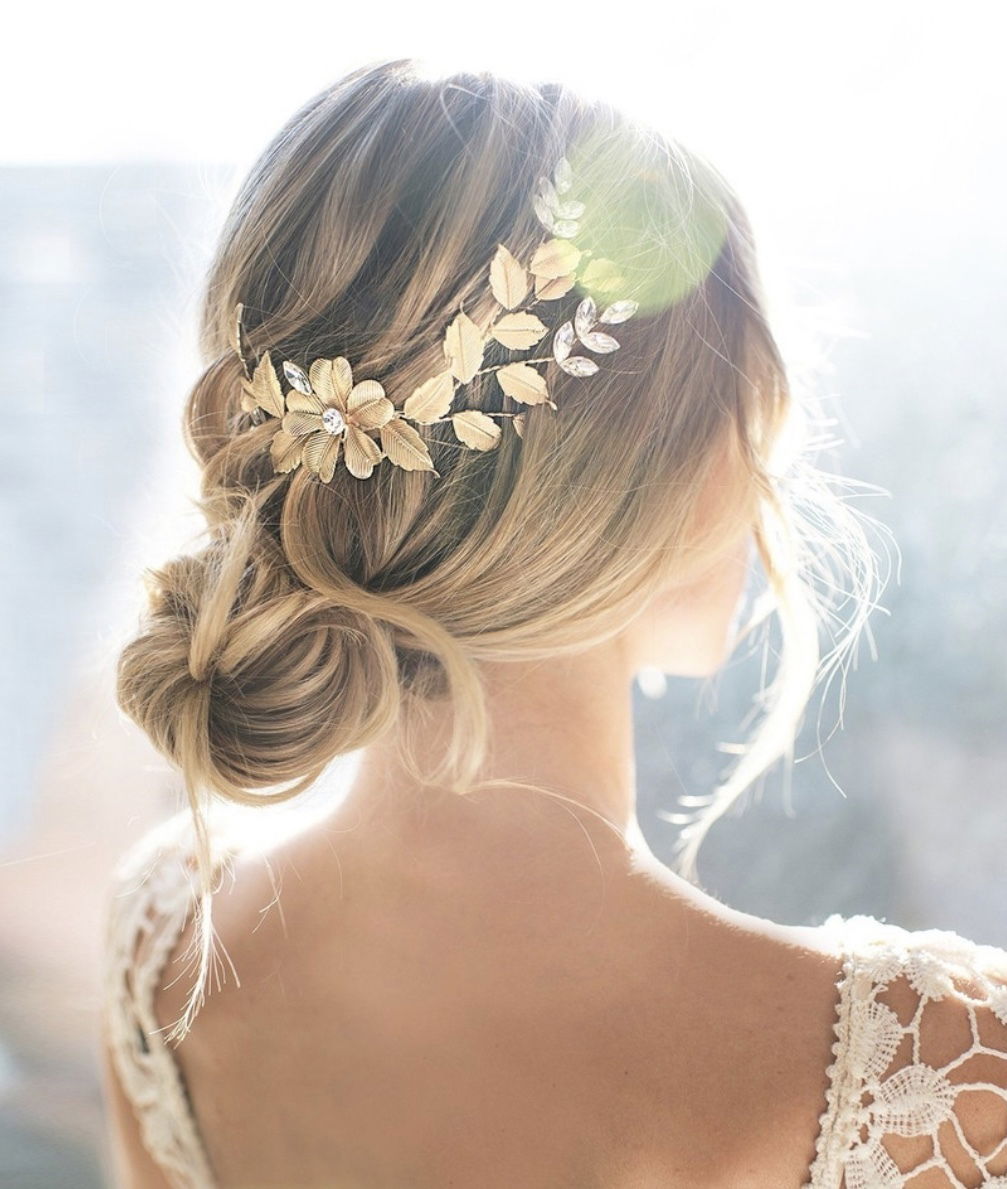 Here's an idea! Wear an elegant opal hair comb as your 'something blue'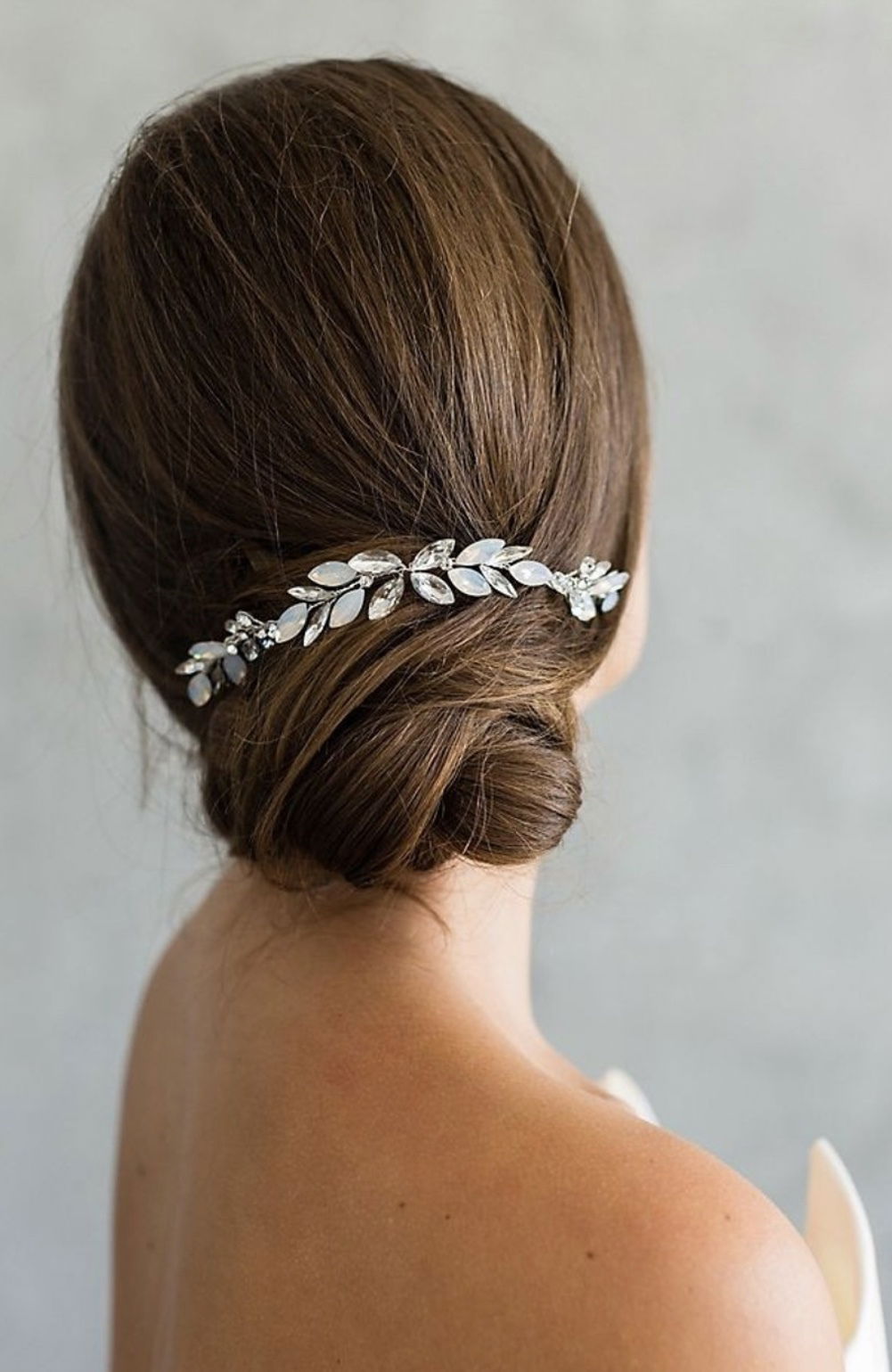 The delicate white flowers on this hair comb are understated and sweet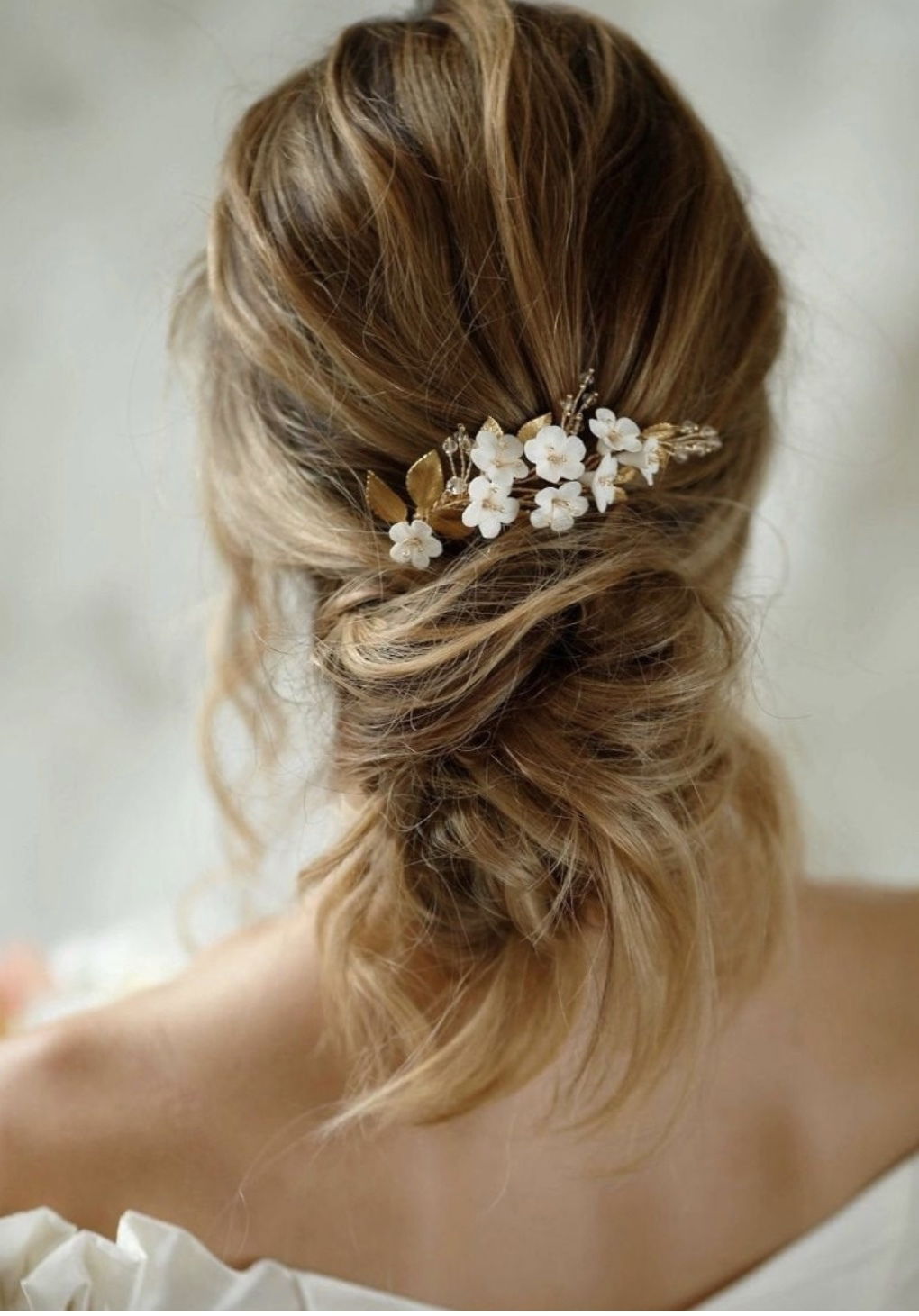 Headbands
Headbands are back and better than ever, and they're quickly becoming one of the favourite wedding hair accessories of the moment. Brides are rocking headbands of all sizes and styles, from beaded halos to thick padded headbands (who doesn't love a good throwback?), to turban-inspired designs.
The best part? This is a throw-on-and-go accessory, which means you'll spend minimal time in your wedding hairstylist's chair on the big day, unless you're pairing the headband with an elaborate updo or need your hairstylist to use pins to keep the headband in place.
Pearls are a huge bridal trend right now, and rocking a pearl headband is one of the easiest ways to get onboard with this beautiful trend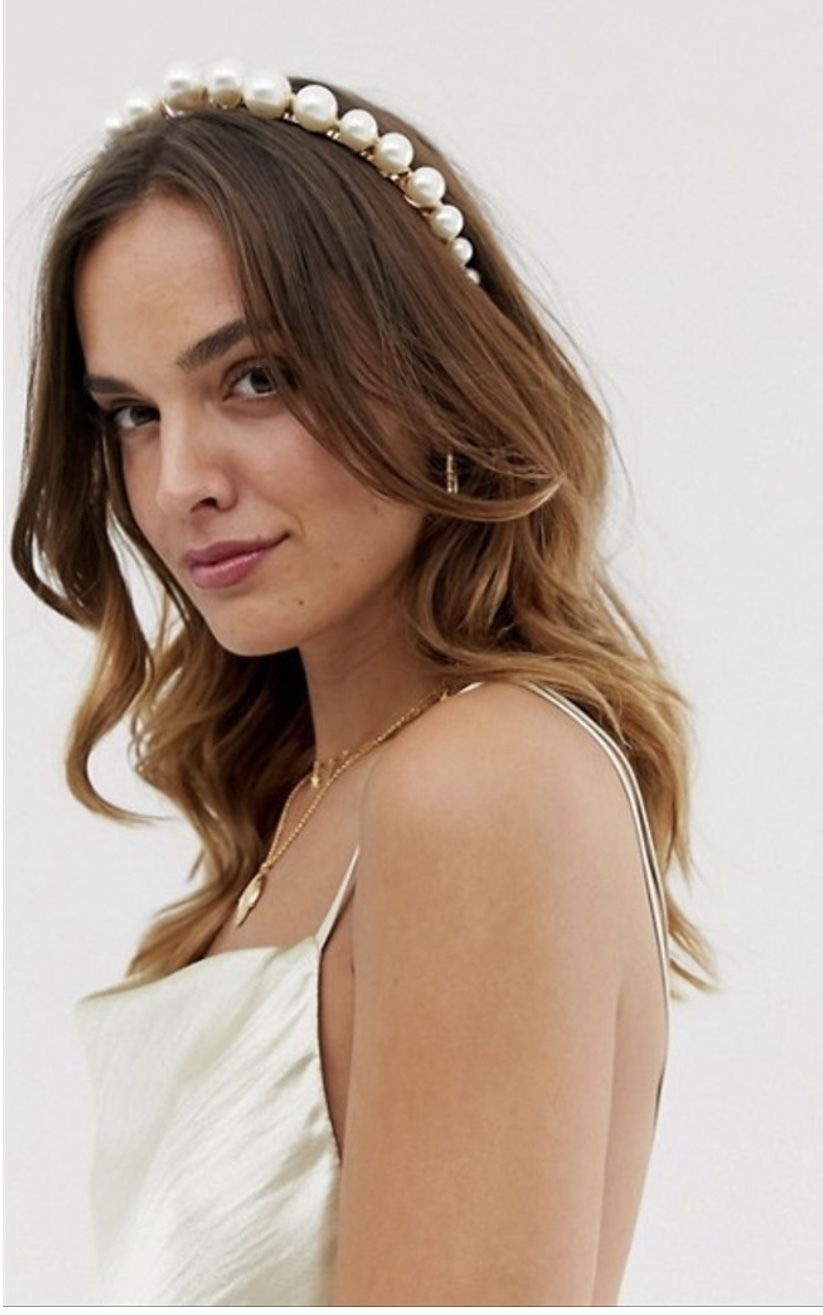 This luxe velvet headband is an updated take on vintage glamour. I especially love the unique honeycomb veil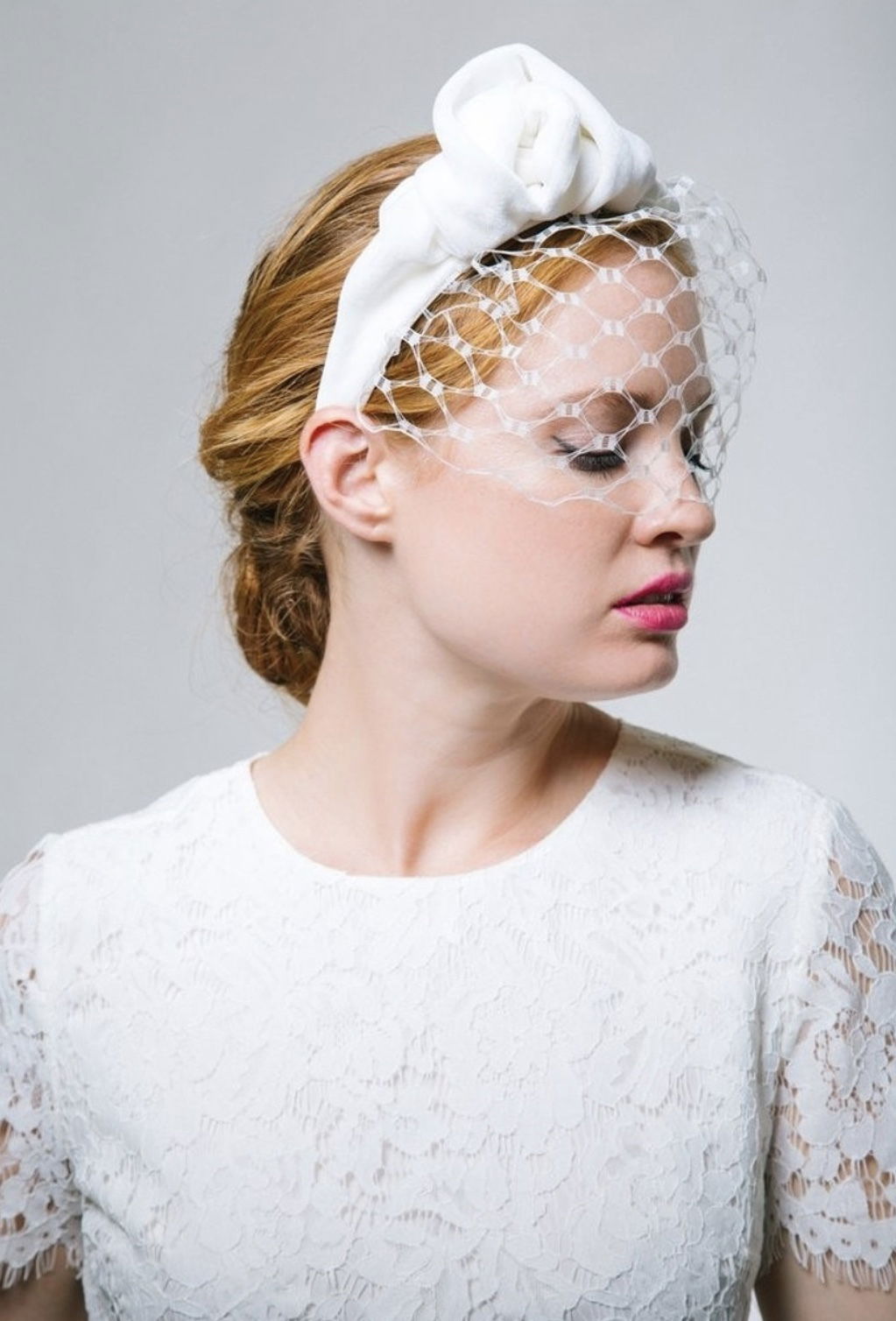 Consider this romantic floral ribbon headband if you're getting married outdoors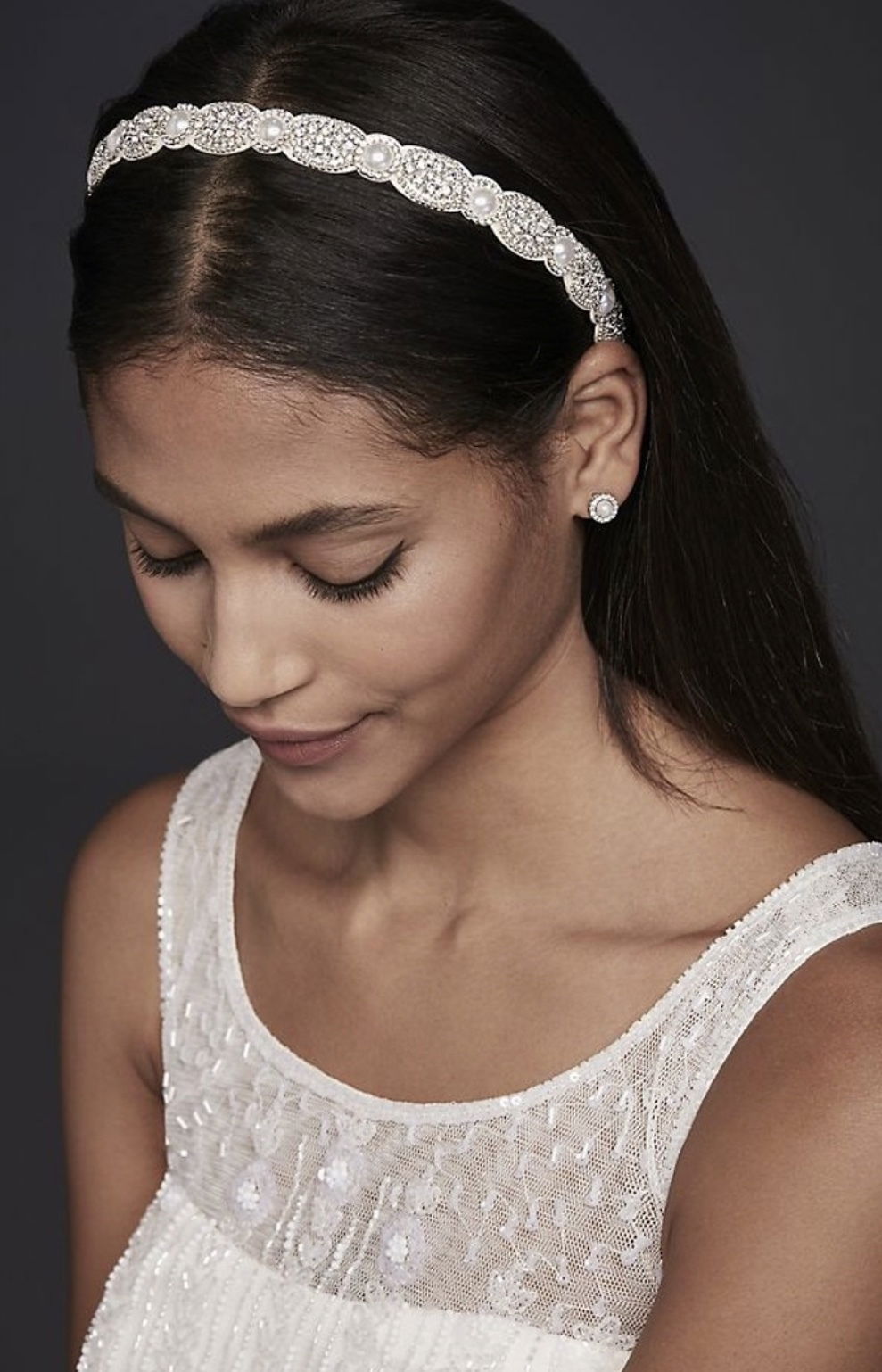 Minimalist brides will love this beaded rose gold headband, which is totally re-wearable long after the wedding day is over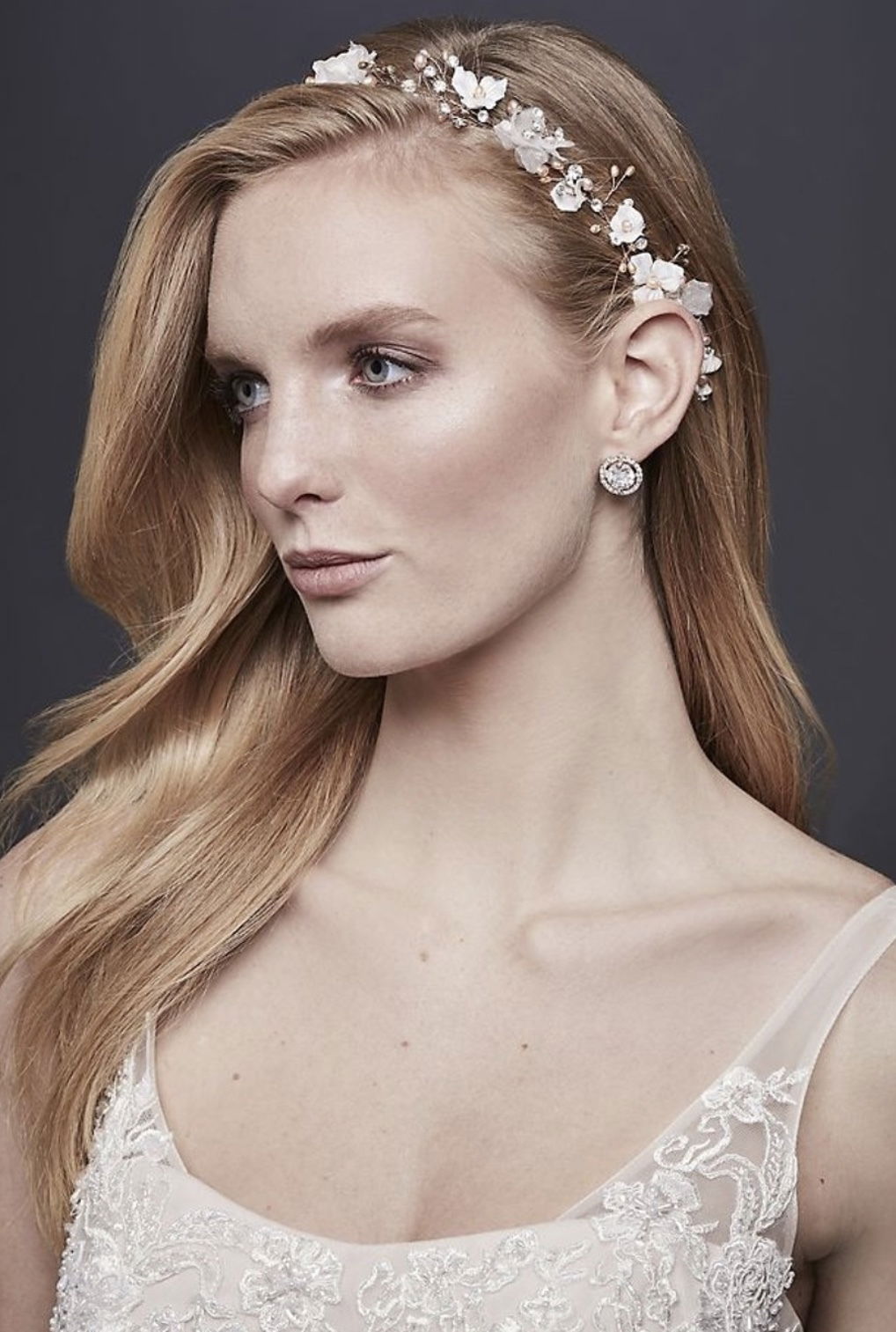 Bows & Scarves
Whilst they're not the most traditional wedding hair accessories, bows and scarves are huge right now, and are an undeniably fun and romantic option if you want to add a hint of whimsical boho to your bridal look. These playful accessories have been getting a lot of recent attention on the bridal fashion runways, and they're perfect if you are planning to wear your hair up, since they pair best with ponytails, topknots, and half-up styles. From long silk scarves to bow hair ties and clip-in options, there are a few different ways to experiment with this great new trend.
This luxurious silk scarf can be personalised with your initials and wedding date, making it a keepsake for years to come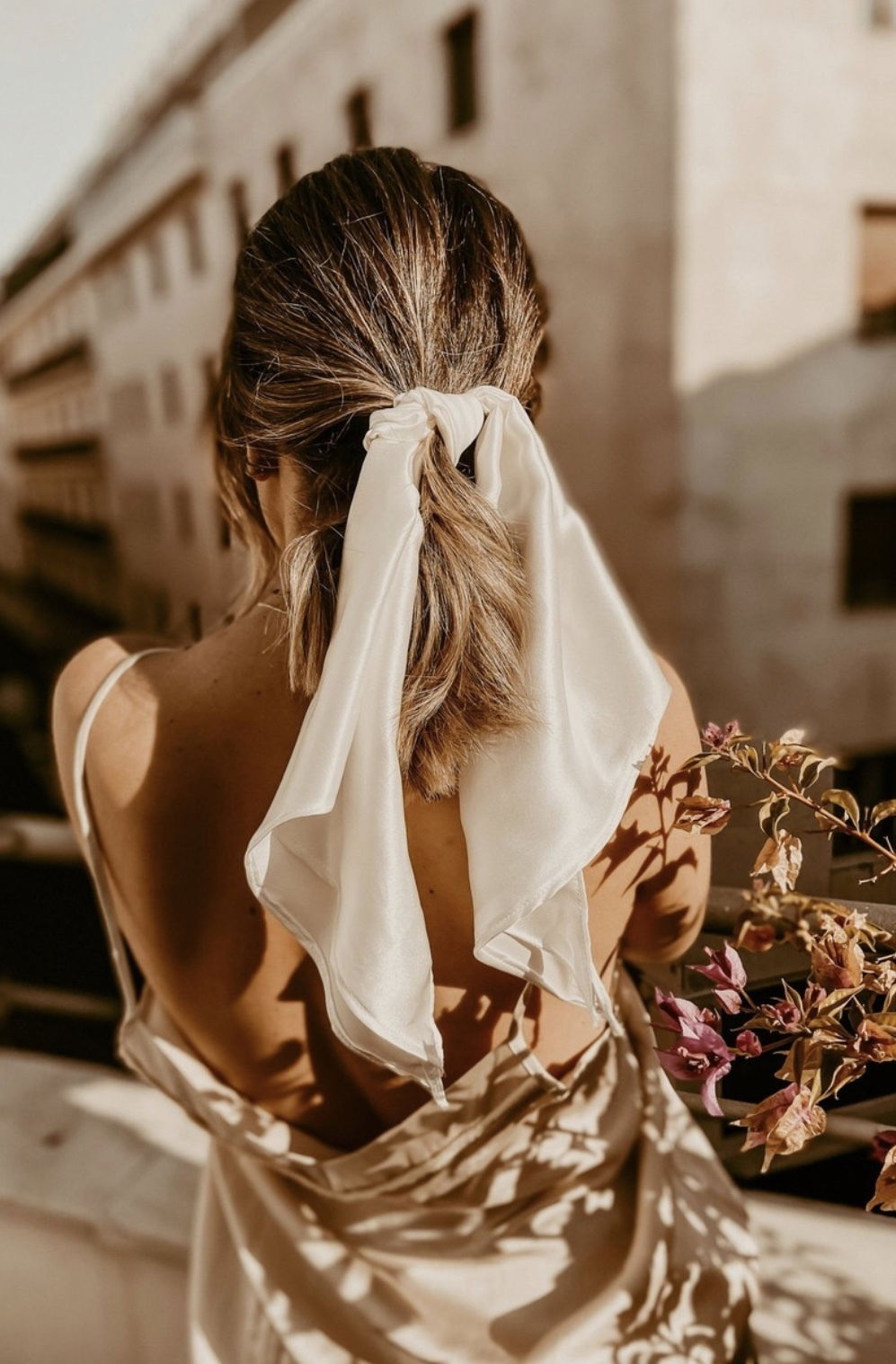 Finish a low ponytail with a bubblegum pink bow for a pop of colour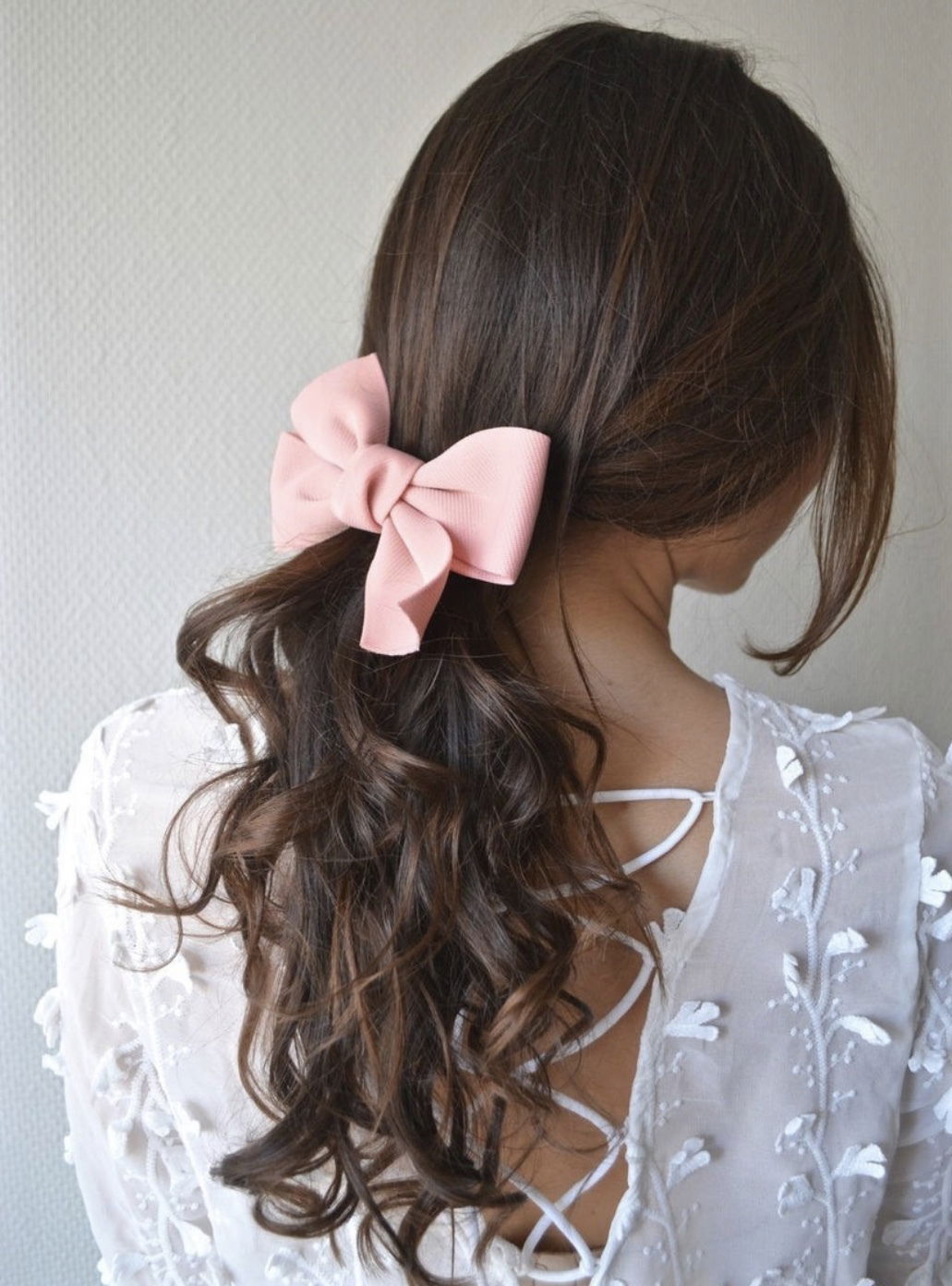 Getting married during the festive season? A silver bow is the answer to your search for the perfect winter wedding hairstyle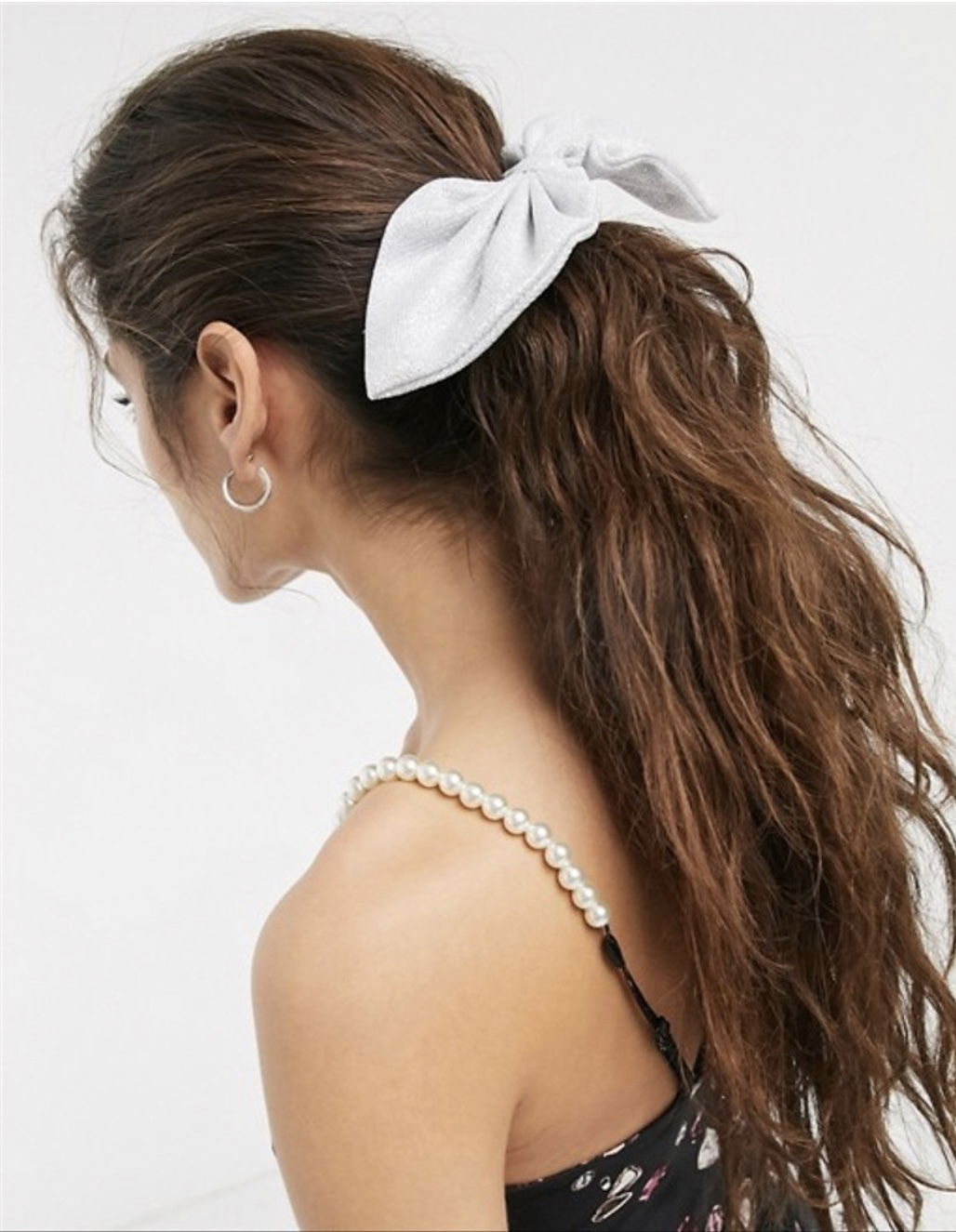 Pair this with a sleek fitted wedding dress for an ensemble that's playful and chic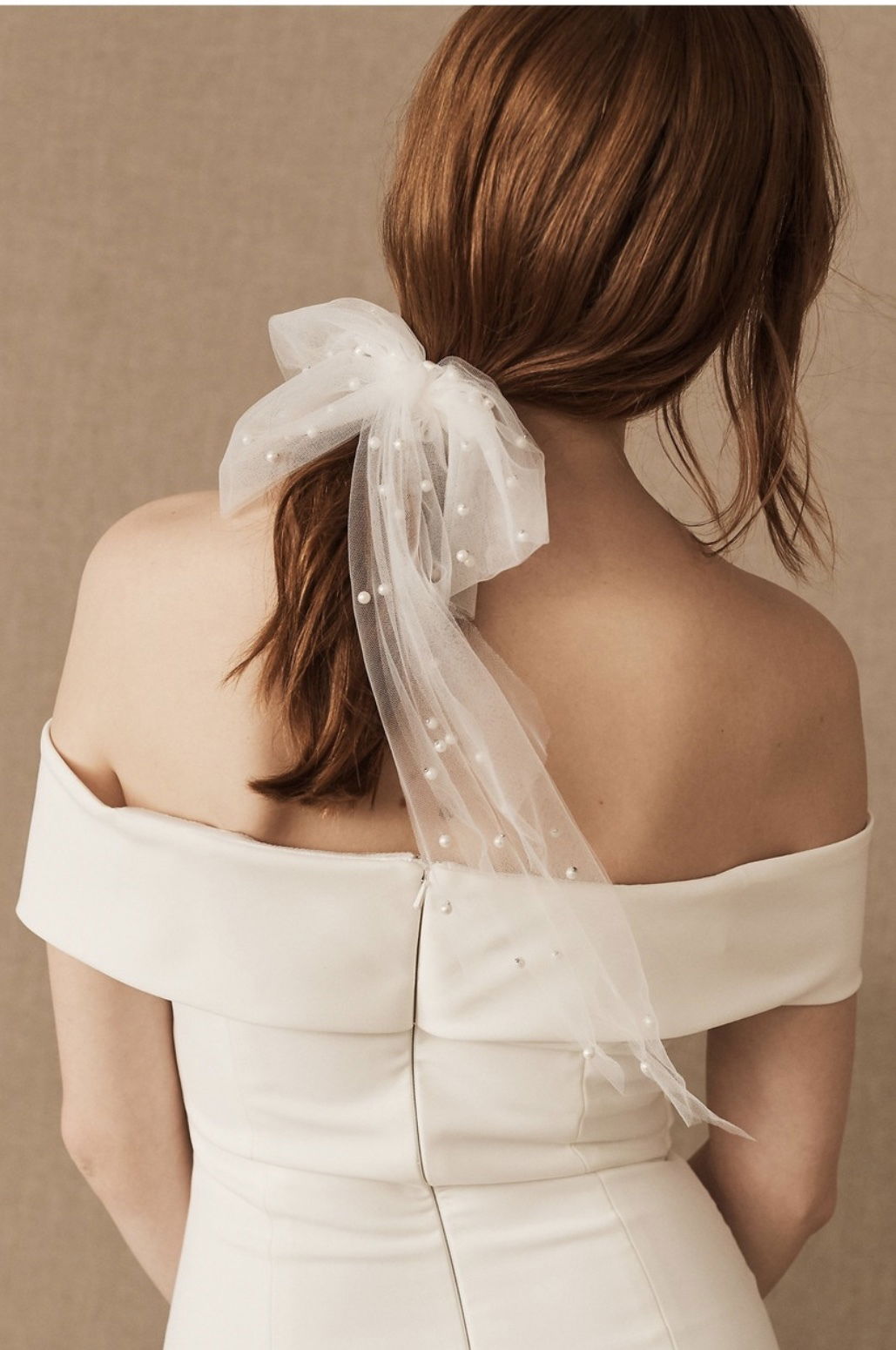 Tulle, pearls, and bows are a trio that will remain timeless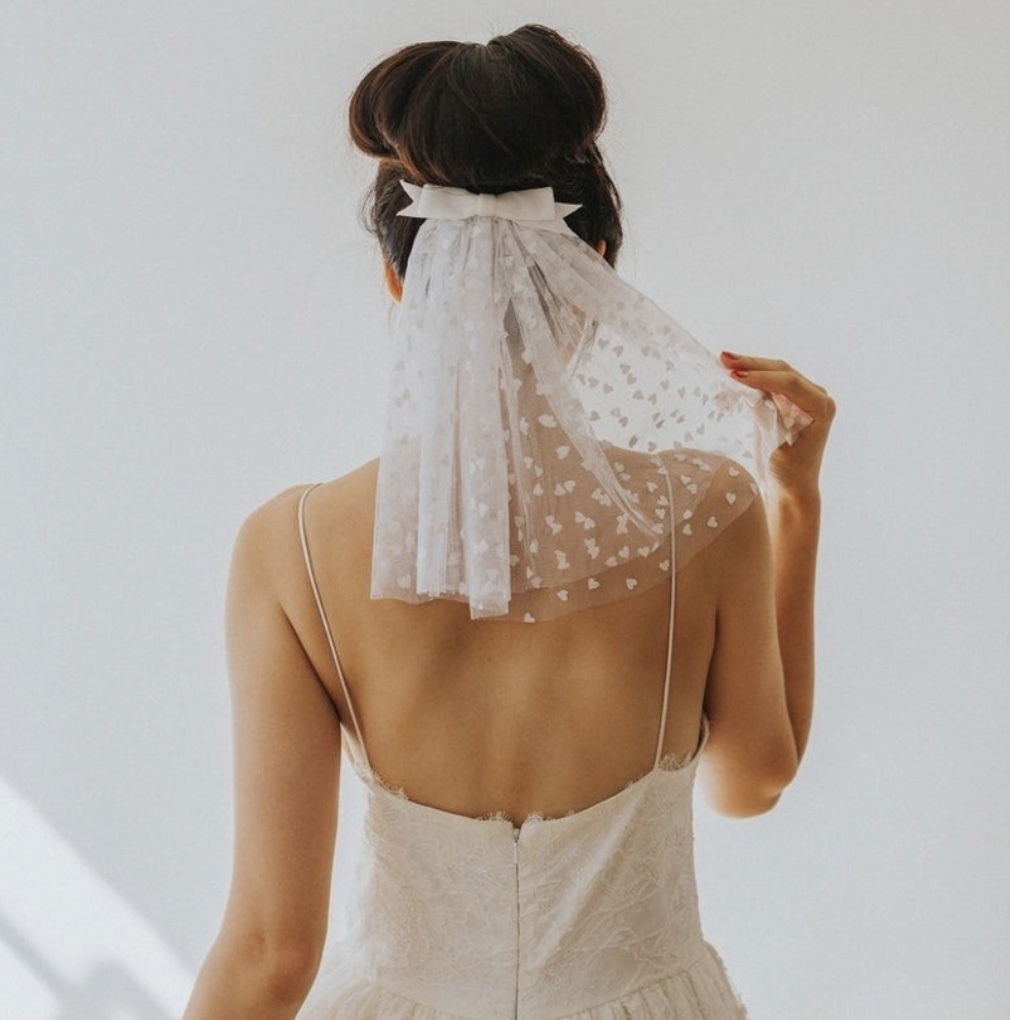 Embrace a bit of bridal edginess by adding a black velvet bow to your hair. I adore this pretty half-up style to show off long, straight strands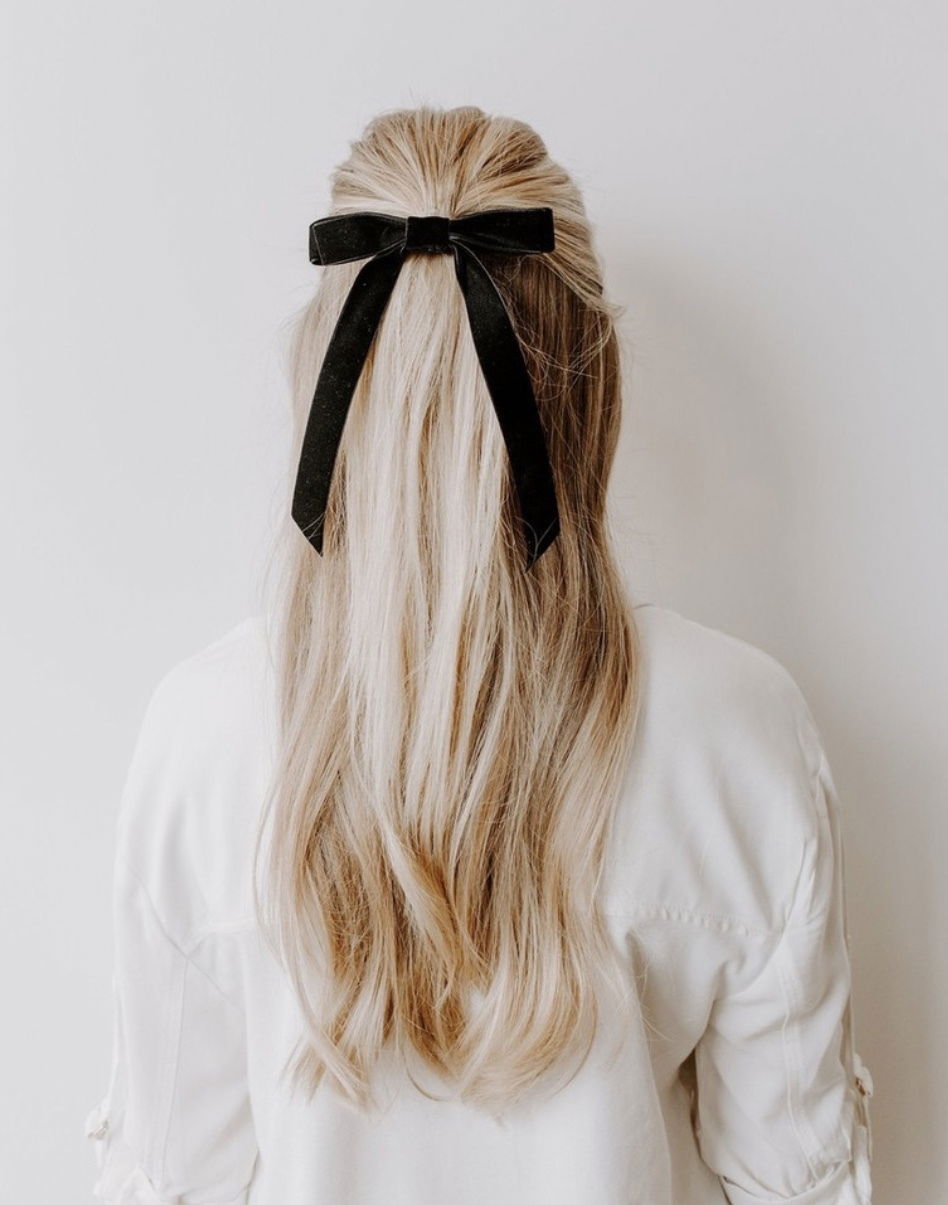 Barrettes & Clips
Barrettes come in practically every shape, size, and colour you can think of, which makes it easy to find pieces that complement your bridal style. They're also extremely versatile, since you can wear barrettes as is with your hair down, or use them to add extra flair to an updo. Sophisticated crystal barrettes, oversized floral clips, and fancy bobby pins are just a few of the options you have.
For the latest take on bridal barrettes, part your hair in the centre, or slightly off, and use a barrette to pin back each side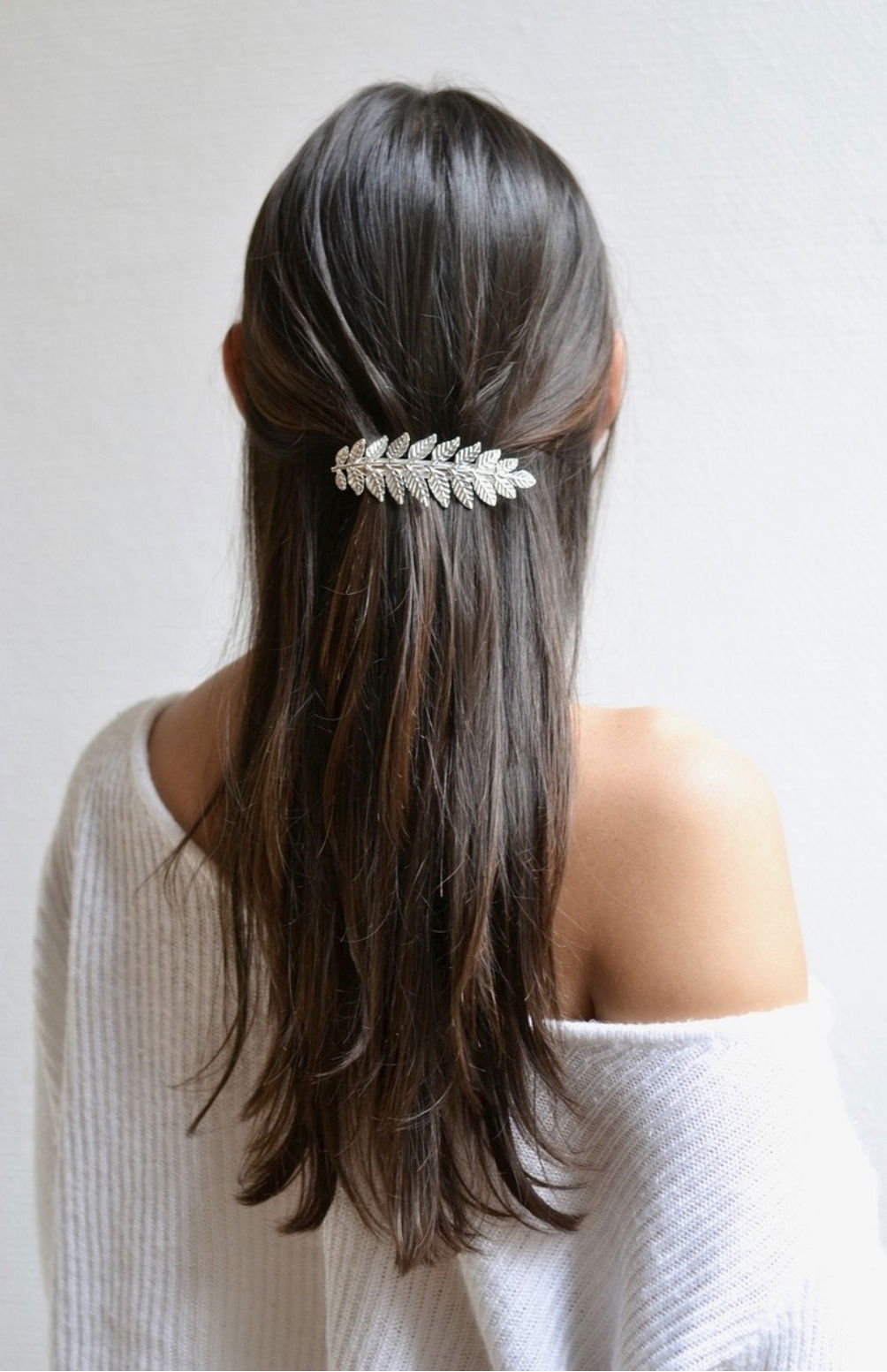 Worried about a live flower wilting in your hair halfway through the wedding day? Get the same look with an oversized fabric flower barrette. I love this idea for a gorgeous beach wedding!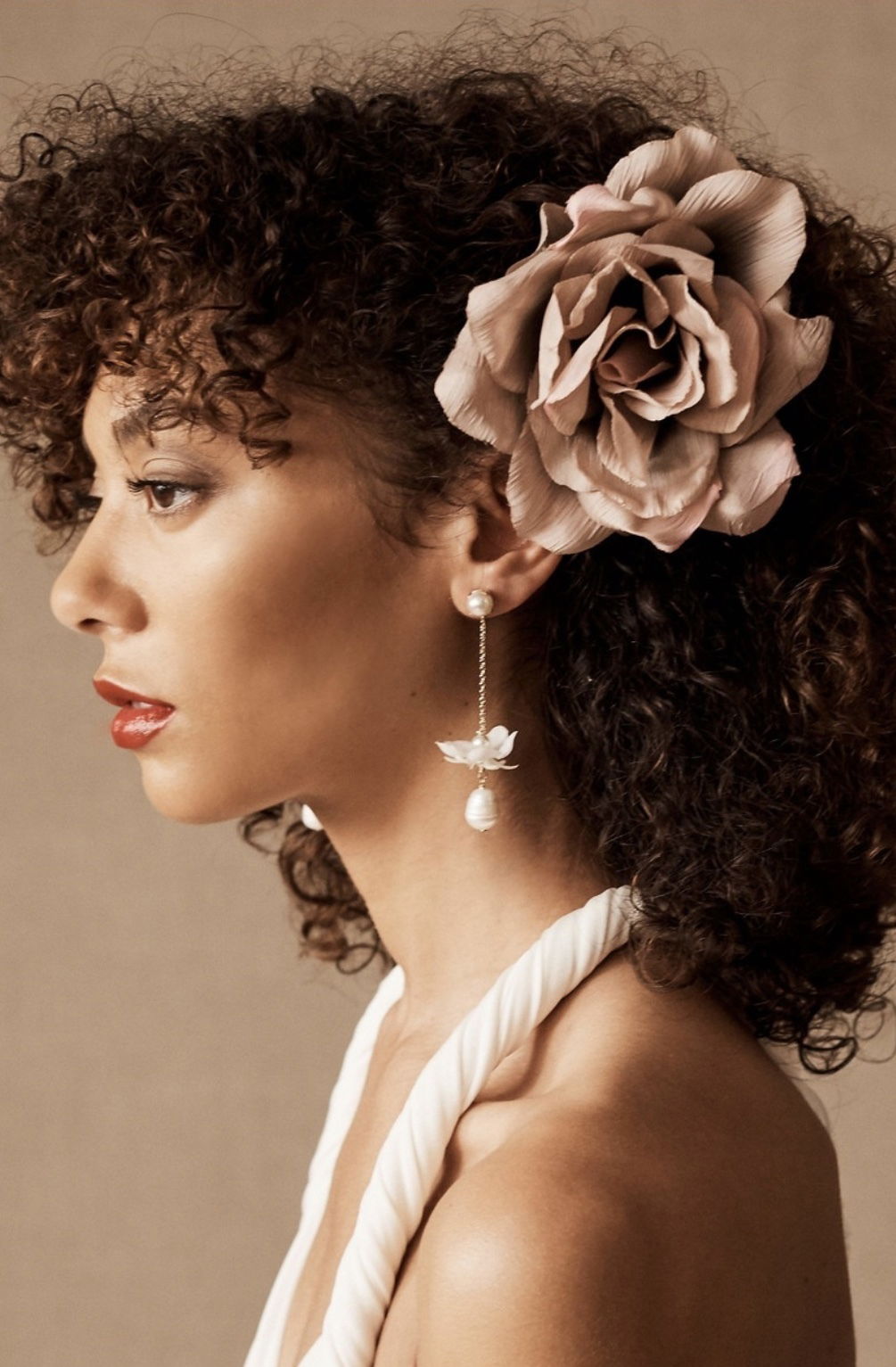 For a ridiculously easy wedding hairstyle, style your hair into a deep part and use a rhinestone barrette to clip one side back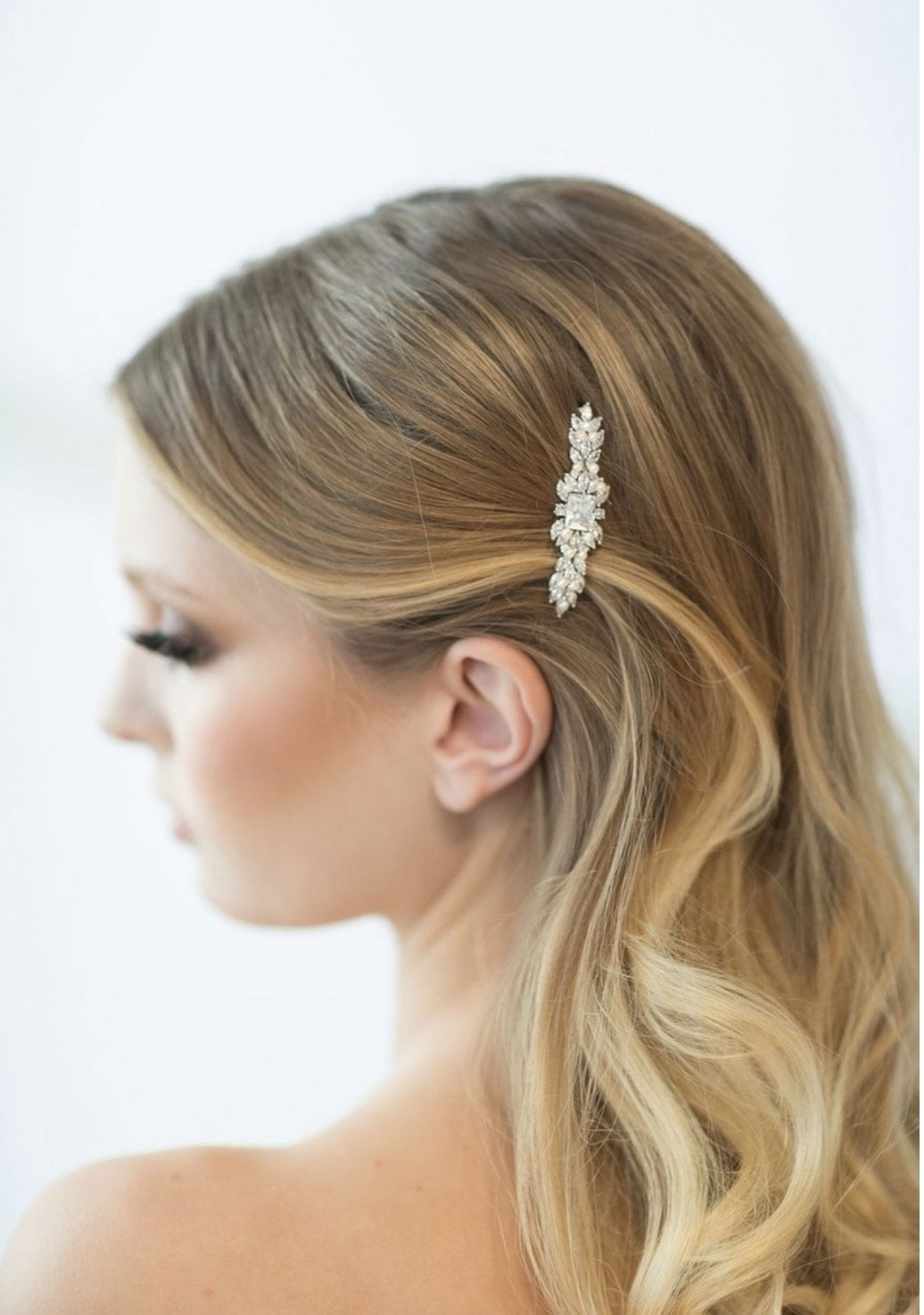 If you're loving the pearl wedding trend as much as I am, consider adding these old-school snap barrettes to your wedding hairstyle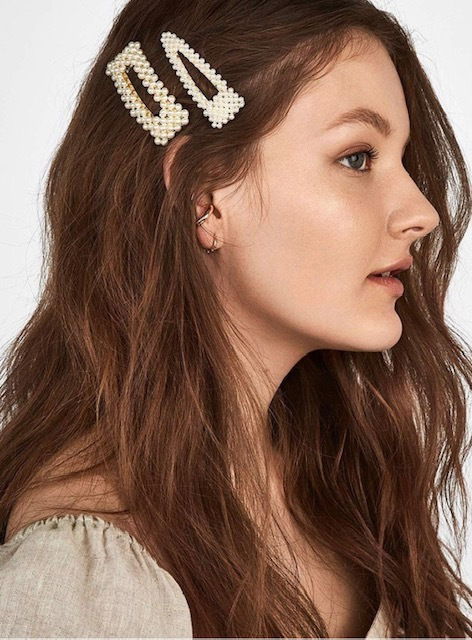 Tuck these bedazzled bobby pins into a braid, chignon, or twist for subtle sparkle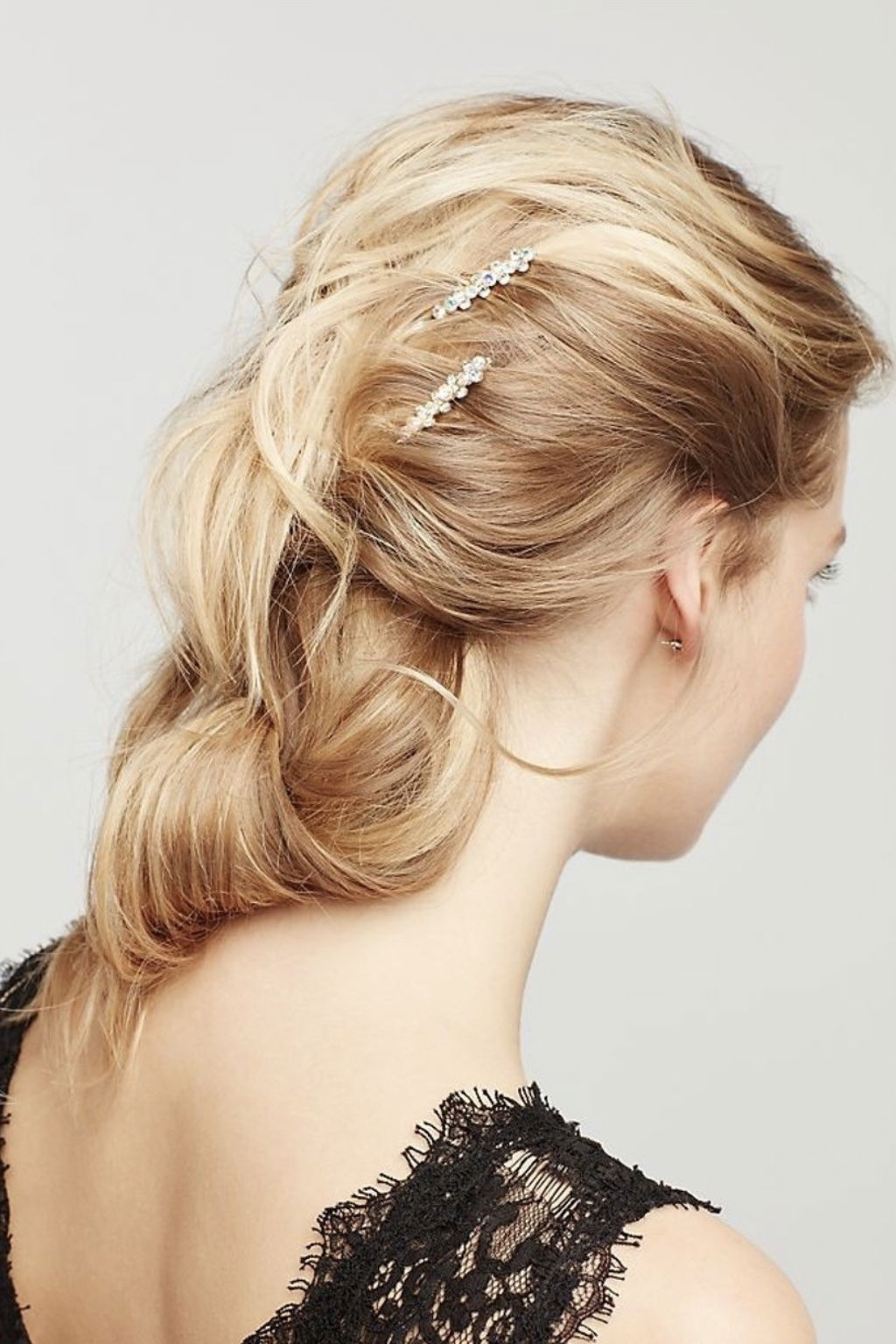 Hair Chains, Vines, Crowns, & Tiaras
Dying to turn heads with your bridal look? Wedding hair accessories like chains, vines, crowns, and tiaras are your best bet.
Hair chains are worn in one of two ways: Either draped over your entire scalp with the chain going down your centre parting and across your forehead, or pinned to the back of your hair.
Hair Vines come in so many different styles, from minimalist to super glam, and are stunning for a half up do, entwined through your style for the ultimate romantic boho vibe.
If you prefer a look that's less bohemian and more regal, you can wear a tiara for the ultimate in wedding day statement pieces (seriously, when else in life can you do this?). Finally, we have bridal crowns. Everything from oversized flower crowns to dainty halo-esque styles which give you the best of both. If you're planning on a flower crown, I recommend placing it higher up on your hairline and tucking the ends under your hair for the most flattering, seamless look.
Channel your inner gypsy by wearing a gold head chain and rocking your natural hair texture. This one is perfect for the bride who may or may not have considered walking down the aisle barefoot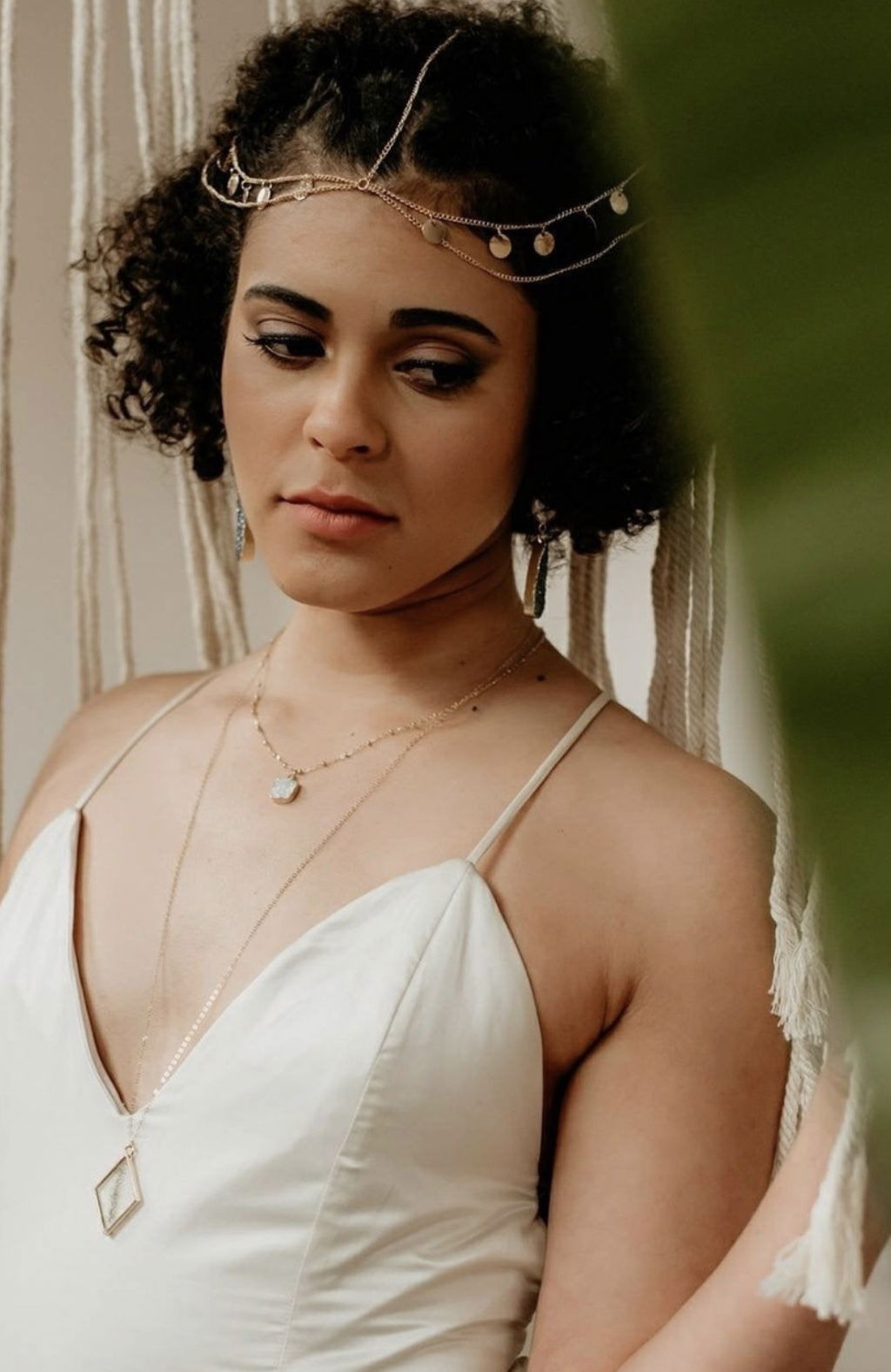 A beautiful greenery-inspired hair vine woven in to your style creates a gorgeous boho, whimsical vibe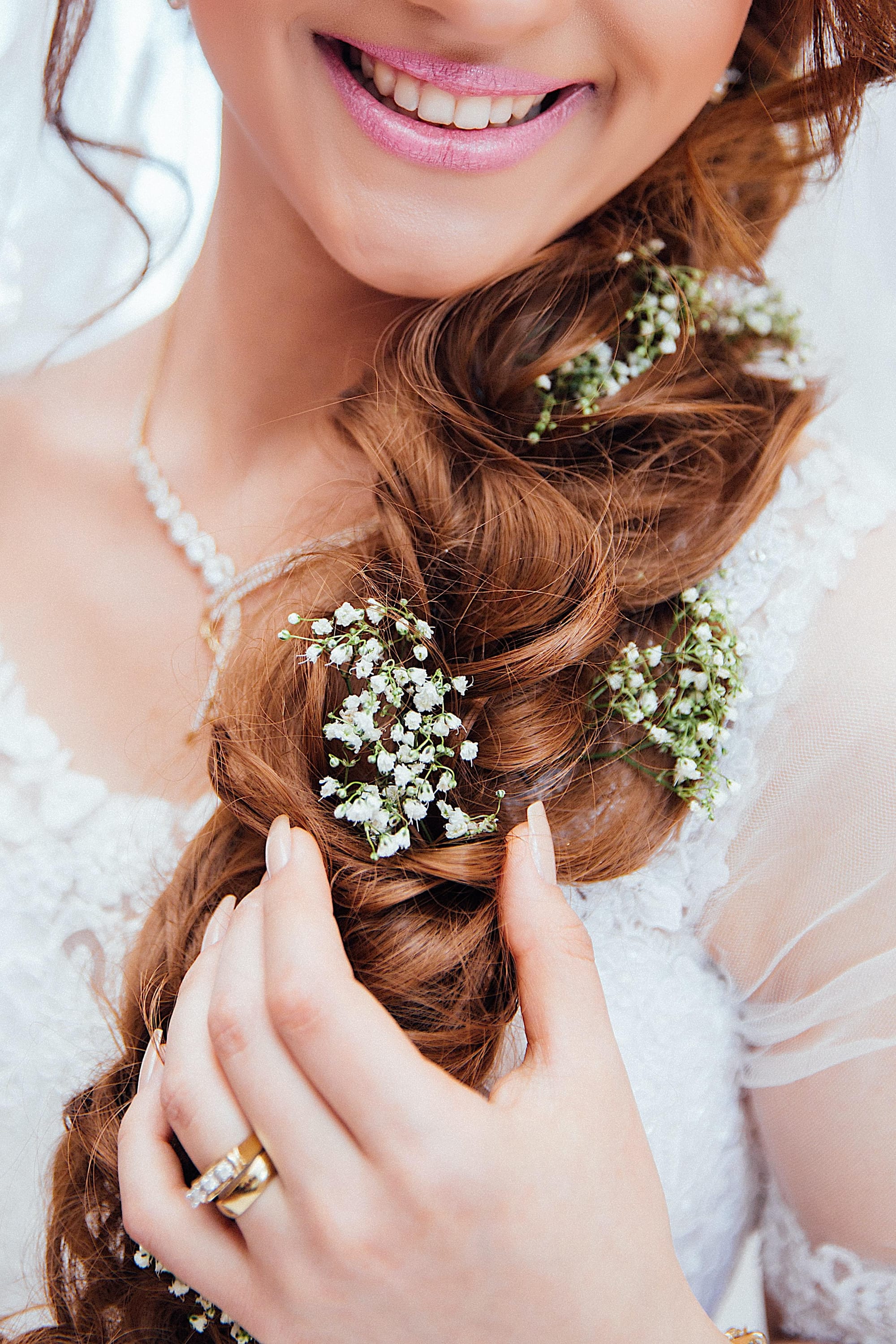 A delicate seed pearl hair vine is a stunning addition to any half-updo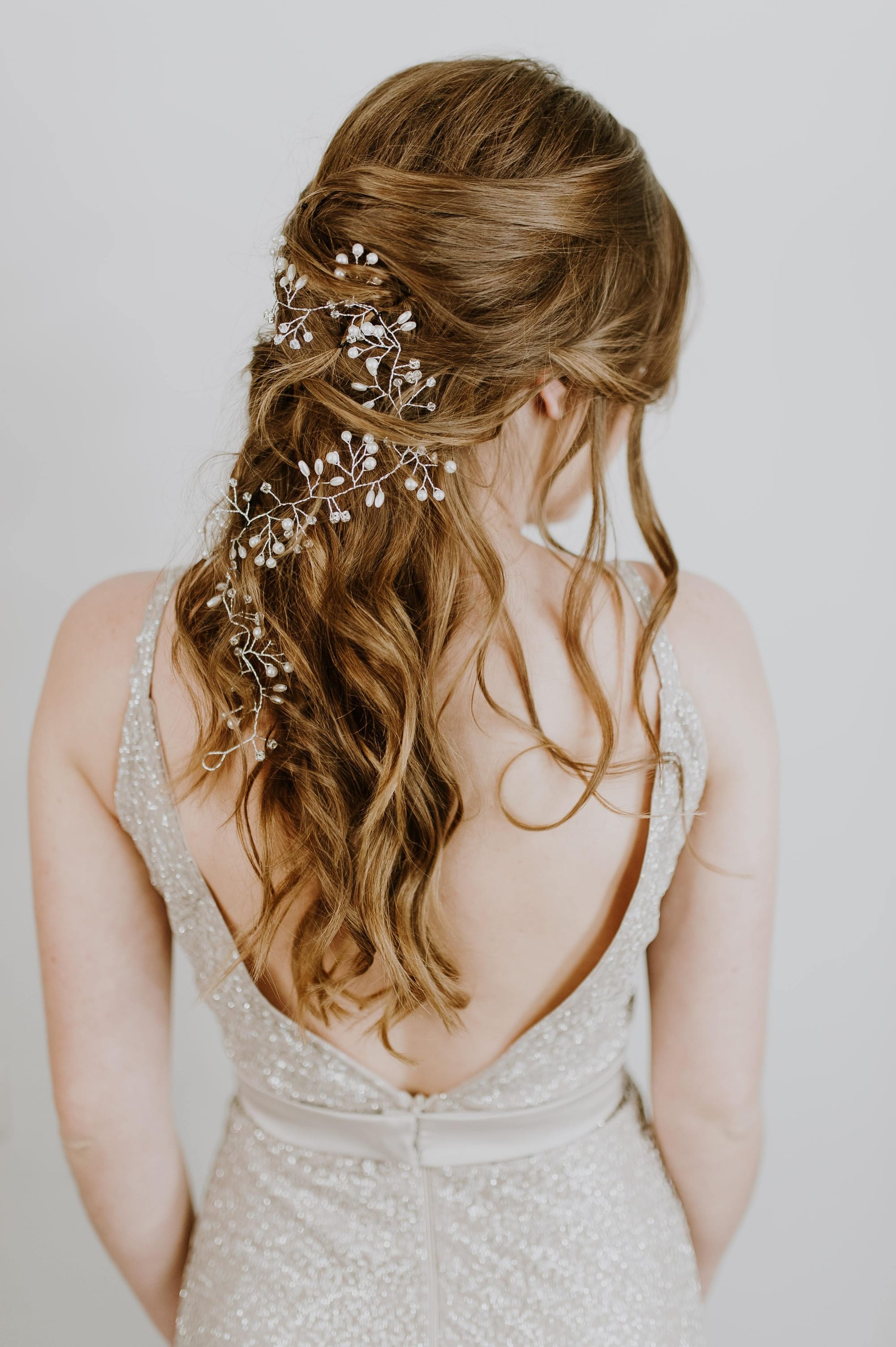 A flower crown you can re-wear over and over again, even after the wedding day has passed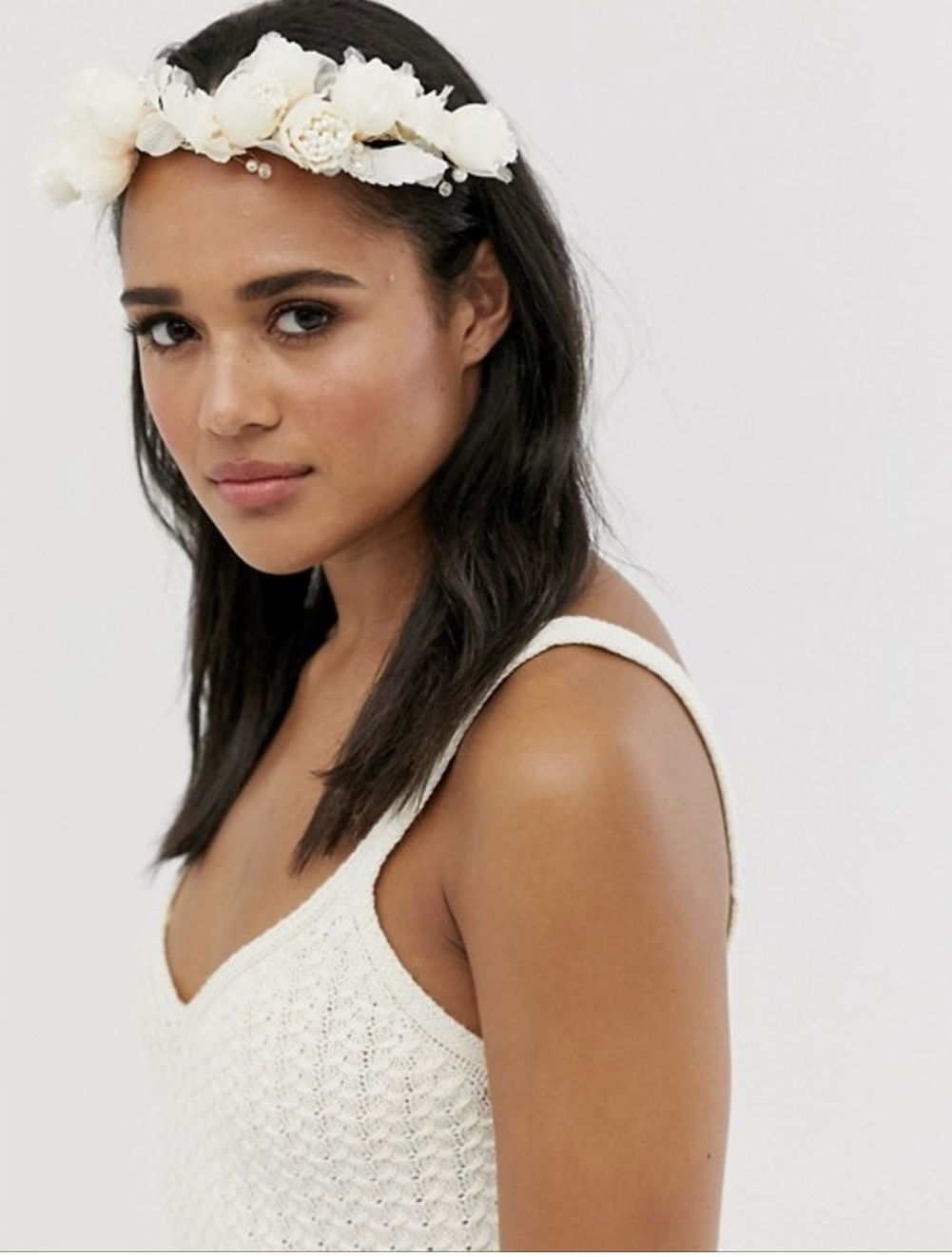 A delicate gold tiara is a guaranteed way to get your very own 'princess' moment on your big day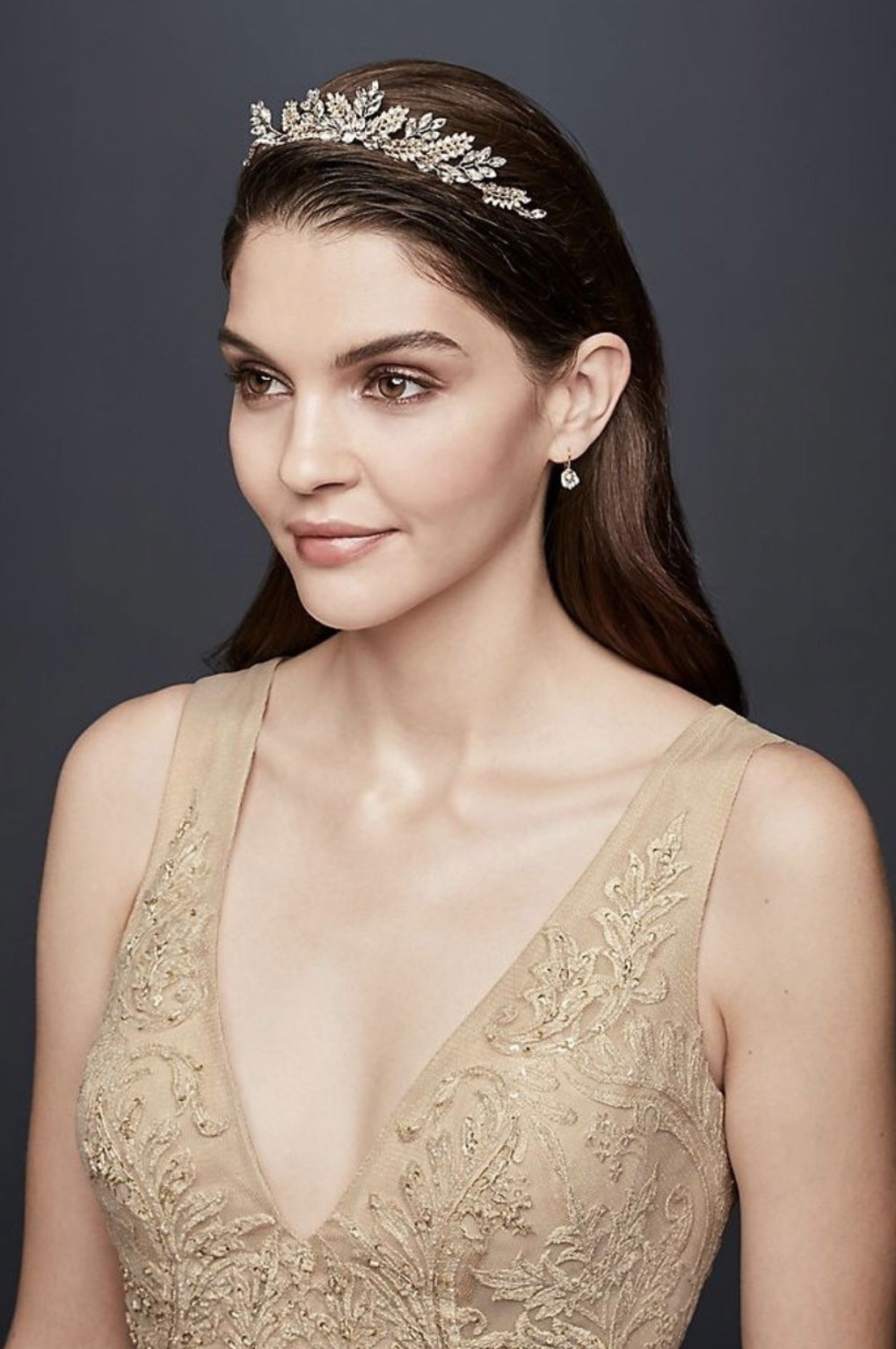 For huge sparkle factor, drape a multi-layer hair chain across a low updo. This look is reminiscent of The Great Gatsby and Art Deco styles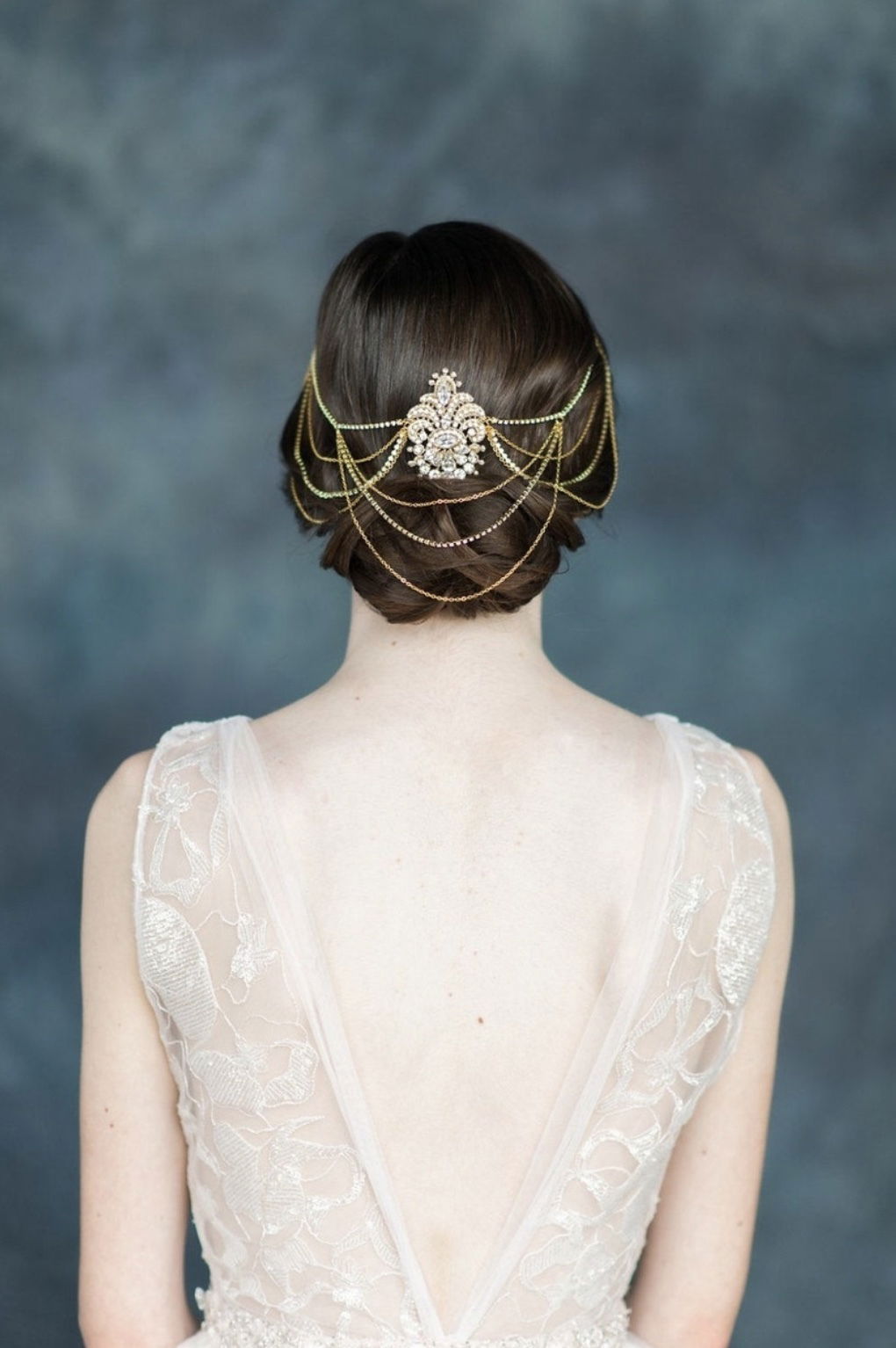 Fabric flowers soften the overall vibe of this botanical halo crown, which will give your bridal look an ethereal, angelic element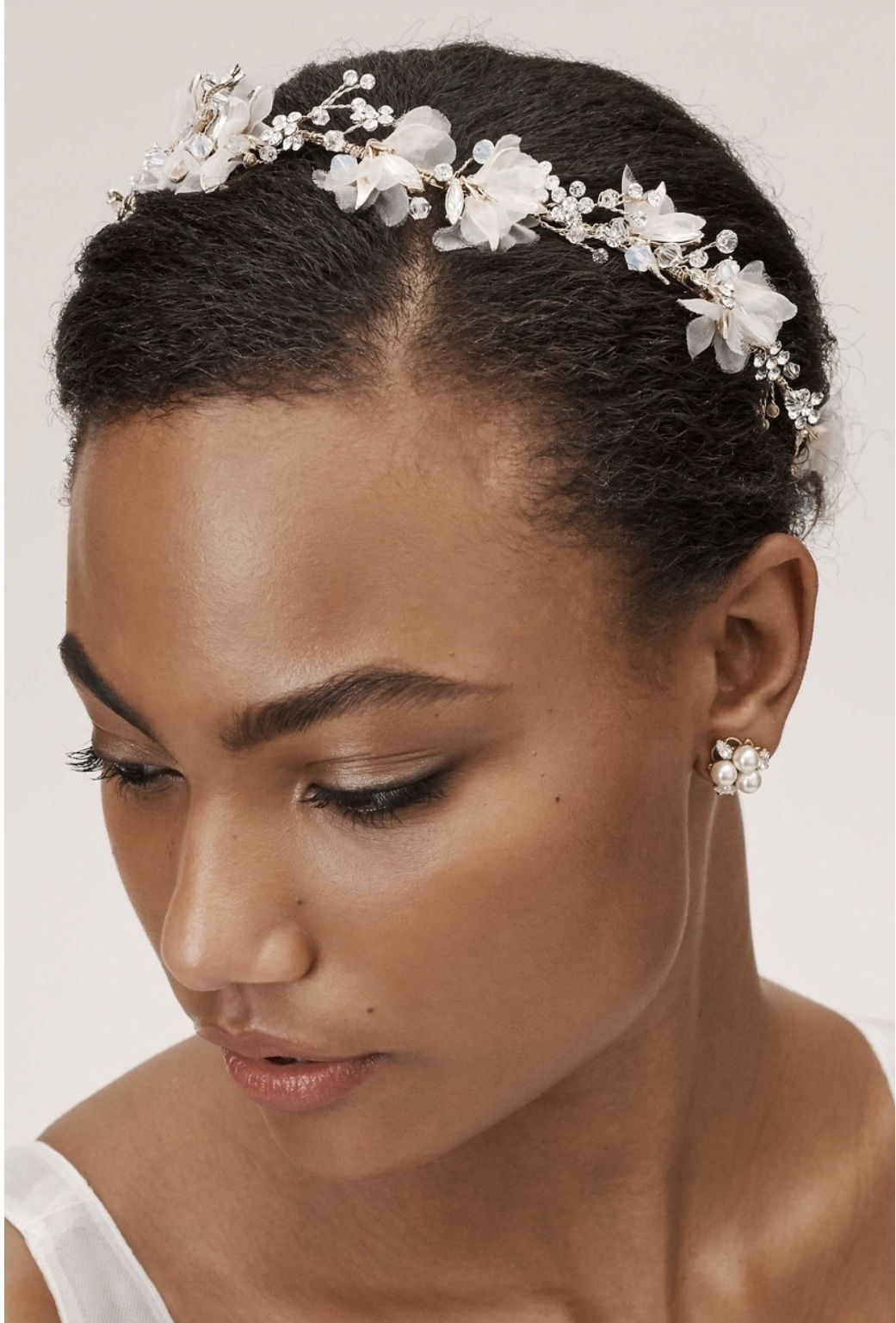 There are greenery crowns, and then there is this stunning gilded tiara. All you need is a loose, low bun and soft makeup to complete the whimsical, romantic look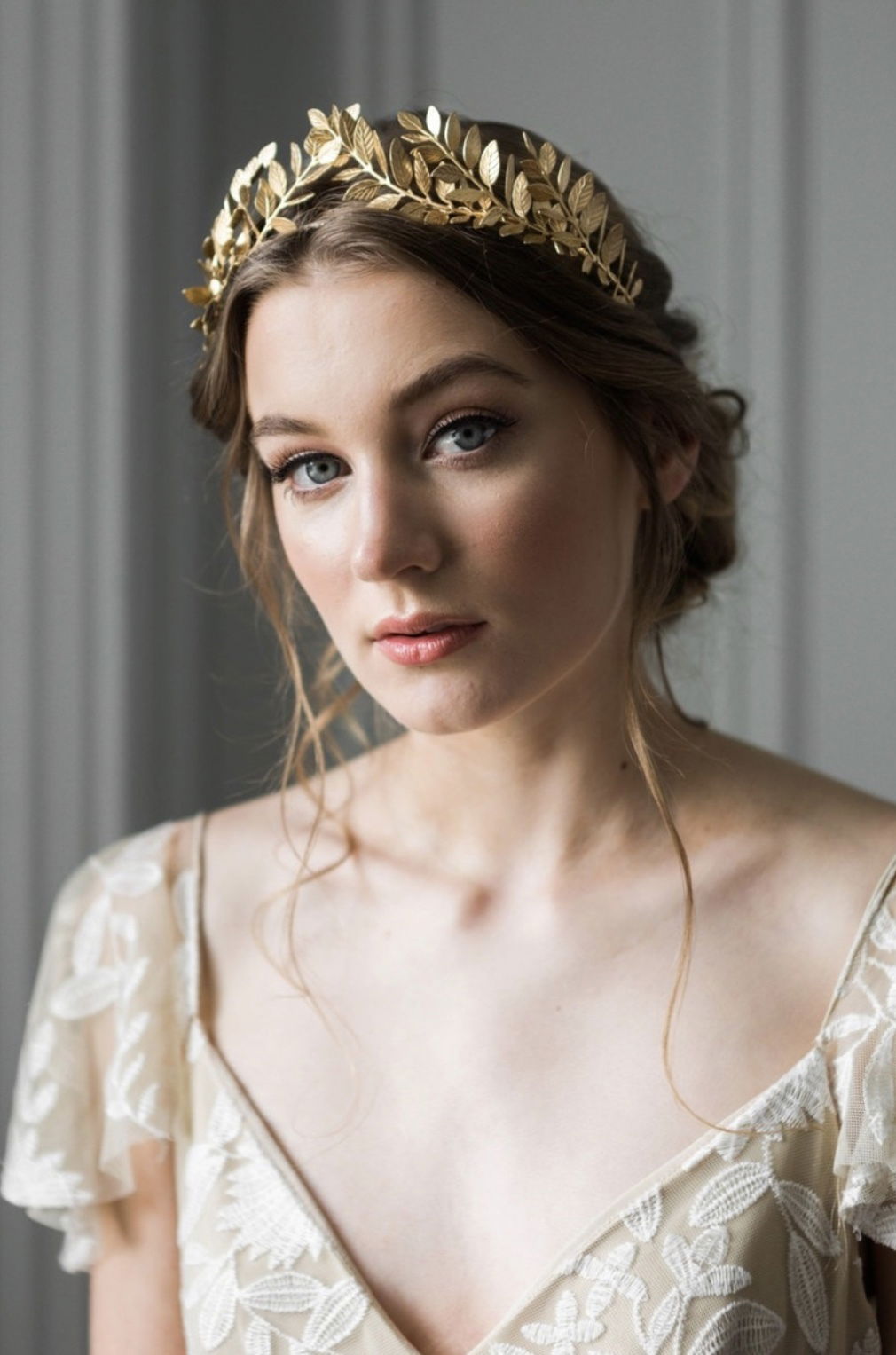 I hope this blog, along with the Veil Blog, has given you some inspiration for your wedding day. If you have any questions, just drop me an email. Also, have a look through some of my hairstyles on this site for wedding hair inspiration.
With love
Natalie xx